New Mexico Travel | Taos and The Enchanted Circle
In New Mexico, the "Land of Enchantment" is printed on state license plates. The nickname is descriptive of the state's scenic landscapes and its colorful history as well as its mixed heritage of Mexican, Native American and European influences. Artists flock to the deserts, mountains and villages of New Mexico to soak up the colorful mix of local scenery and historic architecture.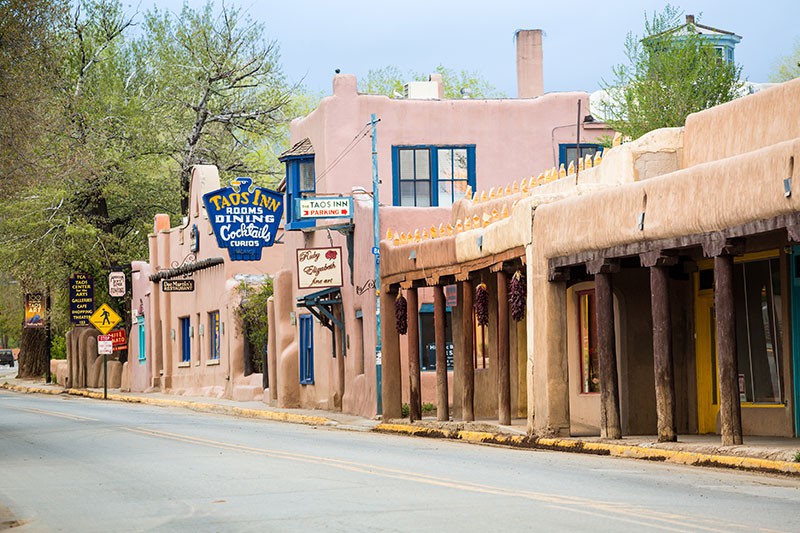 Whether you're coming with your camera or your paint brushes, you'll find inspiration everywhere you look. Some come in spring for the blooming of the desert, and some come in the winter for mountain snowscapes. Many artists and writers, including D.H. Lawrence and Georgia O'Keefe, ended up in the vicinity of Taos.
An Artist Colony with a Backdrop of Mountains
Taos is located in the high desert north of Santa Fe, surrounded by the Sangre de Cristo mountains. For hundreds of years, the area was home to Native American peoples who built "pueblos" out of bricks made from mud, clay and earth mixed with straw and dried in the sun. You can visit Taos Pueblo, a historic site resembling a multi-story condo complex that was inhabited by Native Americans for centuries.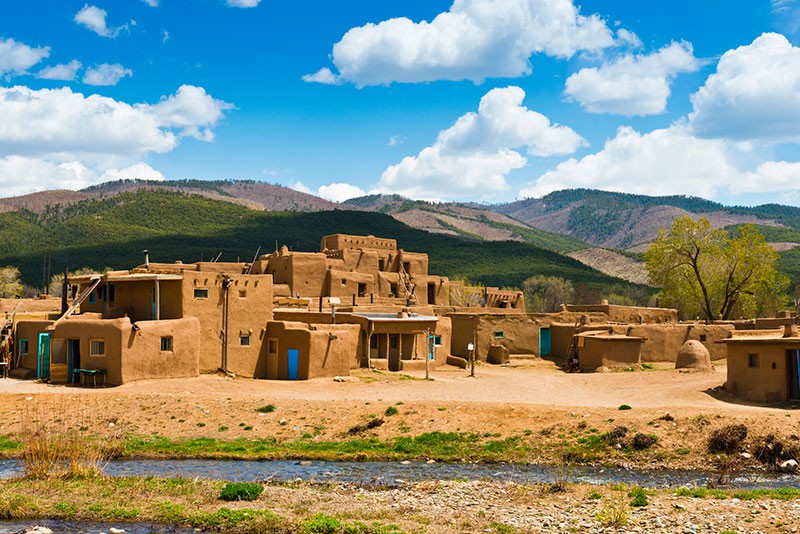 As an artist colony, the village of Taos offers galleries and museums that showcase original paintings, sculptures and mosaics. The Harwood Museum of Art and the Taos Art Museum offer a glimpse into the creativity of the local artists who blend motifs of historic cultures – like Aztec and Navajo - with modern techniques to make artworks befitting the Land of Enchantment.
Venturing Out to the Enchanted Circle
The landscapes surrounding Taos are worth exploring. The most popular driving tour is the Enchanted Circle, which winds its way around New Mexico's highest mountain, Wheeler Peak (13,161 feet). Starting on Highway 64 at Taos Plaza, this National Forest Scenic Byway travels through historic villages alongside mountain lakes and streams, and takes you up into the hills near ski resorts and recreational parks.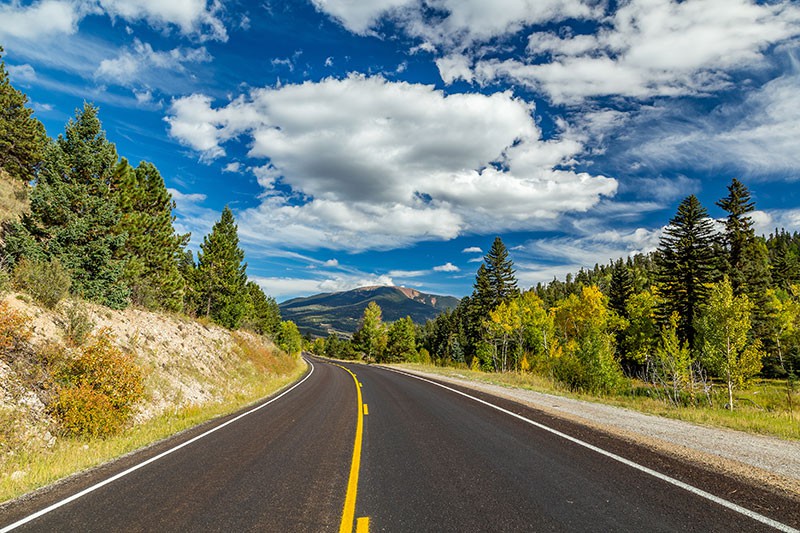 Here is a sample of what you can see along the way.
Hondo Valley: Watch for a sign to the D.H. Lawrence Memorial. From 1922 to 1925, the author lived at a ranch in this area and after his death, his wife had a chapel built in his name. The chapel is now home to his ashes.
San Cristobal/Lama Fire: As you drive north from the Hondo Valley, look to the east and you'll notice the burned acreage from a huge fire here in 1996. More than 8,000 acres of the national forest were burned, and this area is still recovering.
Red River Valley: Fishermen really enjoy the stop at the Red River Fish Hatchery. There is a self-guided tour of the ponds and raceways for trout. The hatchery is an effort to enhance the population of brown trout in the Rio Grande River. The town of Red River is an old-west re-creation, a favorite of families with children.
Questa Cooperative: This is a co-op of artists called Artesanos de Questa. Browse through the studios and watch the artists at work. You'll find wood sculptors, stained glass artists, tinsmiths, painters and photographers at work here.
Bob Cat Pass to Eagle Nest Lake State Park: This is a dramatically beautiful country, with lush valleys and mountain peaks. You may see elk, deer, bears, wild turkeys and other wildlife along the way. The jewel of the state park is a 2,400-acre lake that is popular for fishing in both summer and winter.
Angel Fire: As you make a turn back toward the west, you'll see the four-season resort of Angel Fire. It's worth taking a break here for restaurants and shops. The resort offers skiing in winter and golfing in summer.
Taos Canyon Road: This is a scenic, twisting mountain road dotted with artists' studios. Many of the people who display their wares in the town of Taos have their working studios along this canyon road. The artists encourage tourists to visit and watch them work, and publish a brochure showing the locations of their studios.
Back in Taos, you'll find a variety of restaurants where you can celebrate your journey around the Ring of Enchantment. It's only an 84-mile trip, but the mountain vistas, rivers roaring down narrow canyons, sparkling mountain lakes and the dramatic beauty of Wheeler Peak will stay with you for a long time.
By Kay D. Harrison
Signup for Hotel Deals
Exclusive access to private sales, customized specials & more