Ireland Castle Vacations
Let's face it, we all dream of living like royalty. Well, what if you didn't have to dream about it? Plan your next Ireland castle vacation at one of these magnificent, 4- & 5-star Irish castles and you'll feel royal from the moment you arrive at the gates (or front door!). Rich in history, these properties will blow you away and are guaranteed to provide you with an experience fit for kings and queens.
Ashford Castle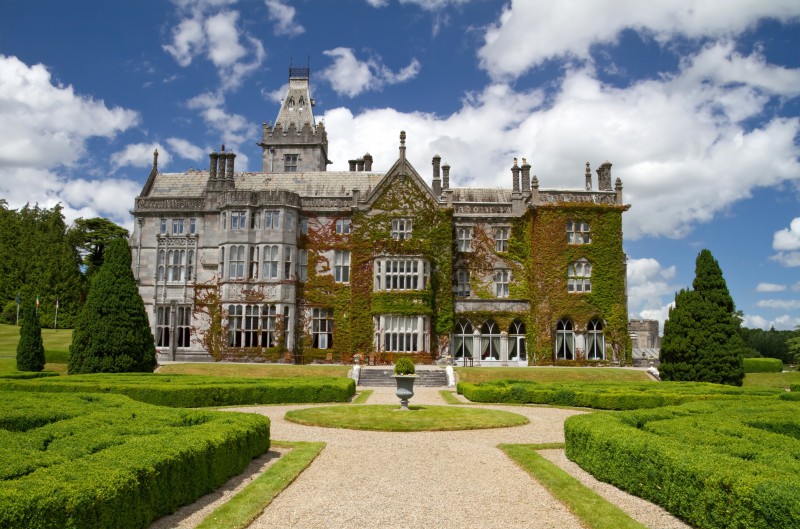 .
This 350-acre castle, located on the border of Mayo and Galway, dates back to 1228 when it was constructed as a stronghold by the Anglo-Norman de Burgo family Over time, the castle changed families multiple times as various Irish battles took place. In 1852, the castle was bought by famous brewer and first mayor of Dublin, Sir Benjamin Lee Guinness (you may know the product well). In 1939, the castle was bought from the Guinness family and began its transition into the beautiful first-class hotel it is today.
While it has been fully restored to its historic magnificence down to the antique furnishings and artwork, it does have some modern upgrades like free Wi-Fi throughout the castle and flat-screen cable TV in the rooms. During your stay, participate in activities the royals used to love like fishing, horseback riding, falconry, and shooting or popular 21stcentury pastimes like golfing and kayaking. You'll even enjoy the castle's tea-time traditions, which started back in 1868. Ashford Castle has been ranked among the world's best hotels and was even voted number two in the 2014 Top 10 Resorts in Europe by Conde Nast Traveler.
Adare Manor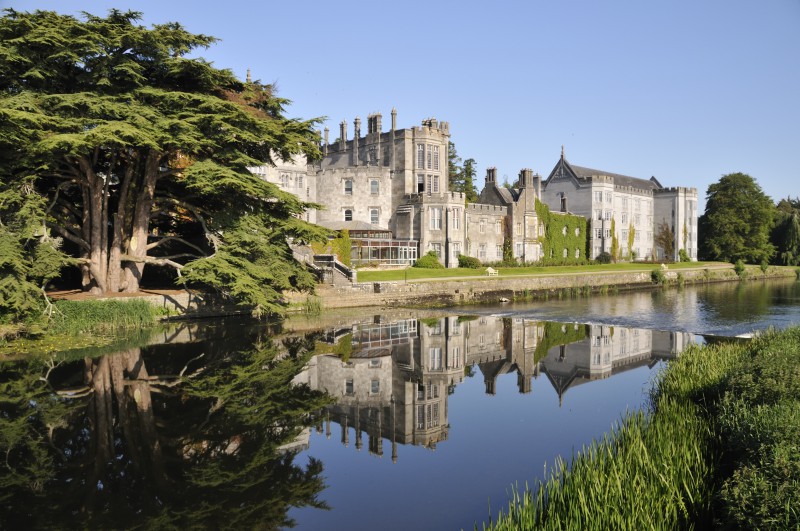 Adare Manor Castle & Golf Resort, winner of too many travel industry awards to name, started off as just an average Georgian house in Limerick. It didn't stay that way for long though, as it underwent construction by an Irish Earl in 1832. The house contains symbolism representing a calendar, with all elements having been carefully chosen by the Earl's top-notch architect. With 365 stained-glass windows to represent the days of the week and 52 chimneys to signify the number of weeks in a year, Adare Manor is a sight to be seen. Other elements referencing the number 7 (days of the week) and 12 (months in a year) can also be found if you look hard enough.
The property actually remained in the Earl's family's possession until 1982 so the air of royalty has not gone stale. This 840-acre property boasts many types of rooms and suites including one called Lady Caroline's Room, which is the presidential suite of the castle, with decorations ordered by the Lady herself. With multiple restaurants, a golf course, spa, swimming pool, fitness center, and even free WiFi you'll enjoy the modern luxuries in a royal, breathtaking setting. Onsite activities include archery, falconry, fishing, wine/whiskey tasting and historical tours, among others. One of our favorites is the classic car hire activity, where you and your loved one can tour the expansive property in a chauffeured classic, old-age sports car.

Dromoland Castle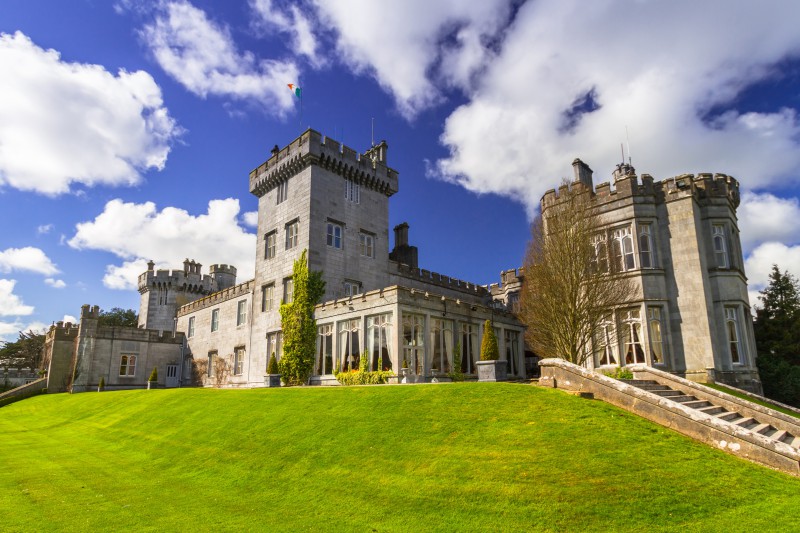 This beautiful castle in Clare traces its history back to the 5th century when it was established as a residence for Gaelic Royalty. In the 1940s the Baron and Lady who lived in the castle were hit with hard financial times and actually began taking in tourists as guests to make some money. Finally, in 1962, the family sold the castle, and it underwent renovations to become the hotel and country estate it is today.
Filled with touches of old-world charm, this luxury property also features modernized amenities such as a championship golf course, indoor heated pool, health spa and tennis courts. Dromoland Castle has been ranked among the top 100 hotels in the world and has also been listed as the number one family hotel in Ireland by Travel & Leisure Magazine. It is also a favorite backdrop for destination weddings.
Ballyseed Castle
Dating back to the 1590s, this smaller, quiet castle in Kerry has only 26 rooms, perfect for those looking for a simpler (and more affordable) stay. Until 1966, the property was still occupied by a noble family and its descendants.
At Ballyseed Castle, you'll enjoy the intimate atmosphere and personal touches of this now family-owned and operated property. Have a drink at the library bar in front of a mantle constructed in 1627 or indulge in authentic Irish cuisine in one of the resort's two restaurants. This resort is also in an ideal location for exploring the Tralee and Kerry regions.
Clontarf Castle
Located in the capital city of Dublin, this mesmerizing castle was built in 1172 to protect the city from possible invasions. Unfortunately, after a long history, the castle was deemed unsafe for inhabitants in 1835 and was thus rebuilt in 1837 to the structure it is today. In 2007, the property underwent a 10 million euro upgrade and renovation.
The luxury castle is popular among foreign visitors and consistently offers special deals on family, golf & foodie packages, which makes this stay more affordable than one would expect. Though Clontarf Castle has the most modern feel of the five castles, it is no less historic and a stay there will certainly make you feel like royalty. Touted for the amazing service, this castle is a must-visit when you're in Dublin.
Signup for Vacation Deals
Exclusive access to private sales, customized specials & more