How To Pack For a Week Away
One of my first jobs after college required 100% travel. I flew out every Monday morning and flew home on Friday afternoon. After a couple of years on the go, I bragged that I could pack for a week in ten minutes and fit it all in my carry-on bag. Now that airlines are charging for checked baggage, this is a skill I'm glad to have, all these years later.
I like to be ready for last-minute travel, whether it's a weekend away at a resort hotel or a last-minute 3-day cruise. Here are some tips to help you pack for your next getaway.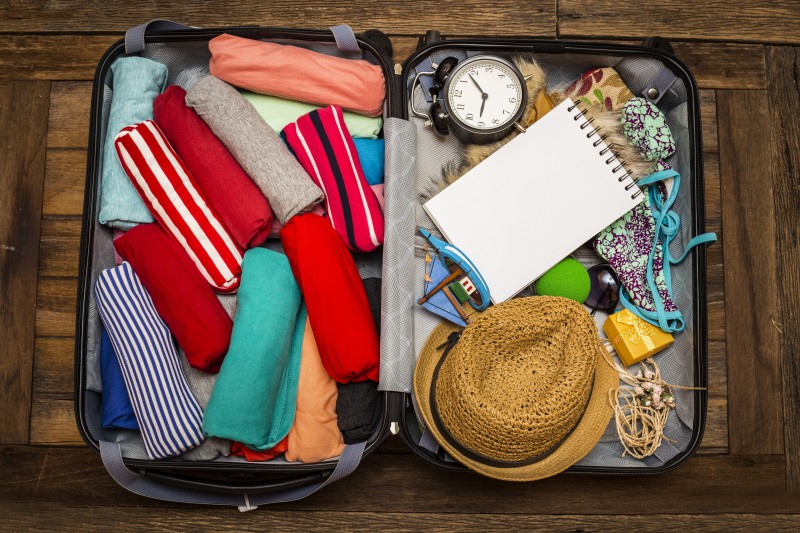 Update Your Baggage
Carry-on: Find a small, carry-on size suitcase with wheels. Several airlines, including American, Delta and United, just changed their carry-on size restrictions. Carry-on suitcases must be smaller than 22 inches long, 14 inches wide and 9 inches deep. It's the 14 inches wide that many existing carry-on bags exceed. The airline may force you to check your bag if it is a mere half-inch too wide, so measure before you buy.
Personal item: You may carry on one personal item, smaller than 9" x 10" x 17". This includes a purse, computer bag, backpack, etc., and no, you can't carry this and a purse. Find a large, tote bag-sized purse, backpack or (if you travel with your tablet or laptop) a computer bag that will fit under the seat in front of you. I'll call this your travel bag. Leave room in this bag for snacks, a small water bottle, your toiletries, medicines, and travel documents. It's not great to have to open your carry-on suitcase in the security line to retrieve documents or toiletries, so carry them in your travel bag, and have them accessible.
Keep a plastic baggie full of travel-size shampoo, conditioner and toothbrush/toothpaste in your travel bag, preferably in an outside pocket so you can pull it out easily for the TSA inspection. If you wear makeup, put a lipstick, eyeliner or travel-size makeup bottle in the baggie. If you plan to check a suitcase, this baggie should be in your travel bag, but I'm assuming here that you are going with carry-on only.
Don't Overpack
Surveys show that most people wear only 65% of what they pack for their vacations. Sometimes, you pack something "just in case," and I'm all in favor of being prepared. But don't pack 20 outfits for a 7-day trip. As the saying goes, take half the clothes you think you'll need and twice the money.
Here are a few tips I use when packing.
Jeans are bulky. Wear them on the plane or leave them at home. I take cotton or polyester slacks/shorts.
Athletic shoes are also bulky, but I prefer not to wear them on the plane – so I don't have to tie and untie in the TSA line. If you must bring them, pack something inside them (socks, underwear, nightgown, jewelry bag, phone charger, or hairbrush).
Running shorts and yoga pants are easier to pack than sweatpants. Leave your sweatpants at home.
Wear your outfits twice. This is tough for some travelers, but a generation ago, this was the norm. I'm as clean as the next person and find this formula works well for a 1-week trip.
Day 1: Jeans + shirt 1
Day 2: Slacks 1 + shirt 2
Day 3: Skirt/shorts 1 + shirt 3
Day 4: Slacks 2 + shirt 1
Day 5: Skirt/shorts 2 + shirt 2
Day 6: Slacks 1 + shirt 3
Day 7: Jeans + shirt 4 or nice blouse
Extra items: Sun dress or jersey dress, 1-2 nightgowns or pajamas, T-shirt, running shorts, 7 pairs of under garments (1 extra), 2 pairs of comfortable shoes (wear one), and a bathing suit or 2. If it's a beach or cruise vacation, add flip-flops.
This requires clothes that are easy to mix and match, so my travel wardrobe includes plain-colored bottoms in neutral colors and multi-colored blouses or tops. I also pack a white or black light cardigan, just in case.
This formula also works for men in most seasons, but men who like to wear jeans most of the time may want to pack two pairs or more. If a sport coat is required, try to wear it or carry it on the plane.
The secret to making this work is to plan ahead. Don't open your suitcase and start piling things in. Know what you'll wear each day and take minimal "just-in-case" items. You can always buy something at your destination. (I once packed too lightly for an Alaska cruise and ended up buying a lovely fleece jacket in Ketchikan, a souvenir I still own.)
I hope you find these packing tips helpful. Happy travels!
By Kay D. Harrison
Signup for Vacation Deals
Exclusive access to private sales, customized specials & more