Don't Leave Home Without These Nifty Travel Tools
Technology is one of those things we seem to have a love-hate relationship with. On one hand, we love the convenience, access, connectivity and efficiency it has brought into our lives. On the other hand, we hate that it has disconnected us from interpersonal communication and distracts us from being in the present moment.
Well, embrace it and face it travelers! Technology can help us tremendously when we are traveling far from home, whether it's simply to tell us when to reapply our sunscreen or keep us healthy by providing us with clean drinking water. Here are ten neat travel gadgets to bring along the next time you take a vacation.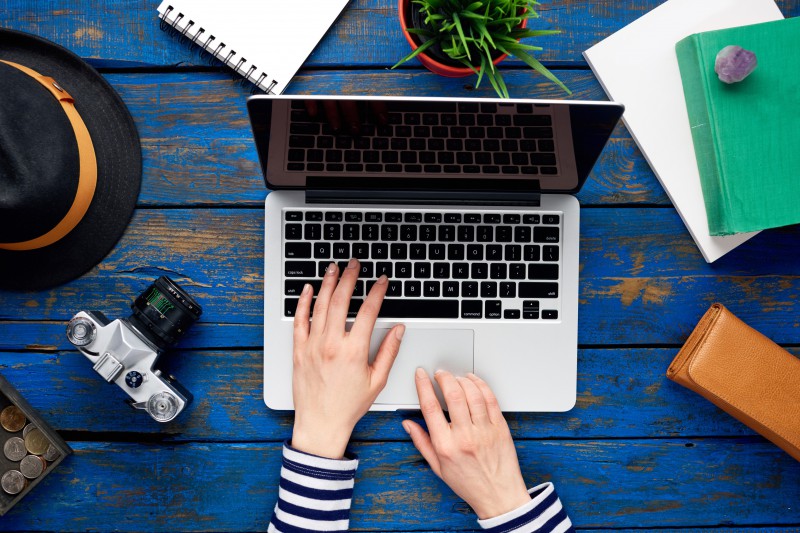 1. USB Battery Pack
We love to pack heavy and bring all types of devices with us when we travel. For long plane or car rides, we bring along our cell phones, tablets, e-readers, laptops and other hand-held devices. Having a USB Battery Pack allows you to recharge your devices without needing access to an outlet or power source. Just charge the device before you go and use it to re-juice your technology if you're running low outside the hotel. There's a multitude of these chargers on the market ranging in price, size and number of USB ports. However, there are quite a few good ones that will suit your needs for $30 or less.
2. Secure Clothing
Though unfortunate, one of the big things we have to worry about when we travel is pickpocketing. American tourists are easy to spot and tend to carry a lot of valuables on them (smartphones, cash, credit cards, passports, cameras, identification cards – you name it!). It is easy for thieves to cut the straps off of purses (seen this happen with my own eyes), take wallets by reaching into back (or even front) pockets or steal your phone right from your hands while you're texting on the street. If you're uncomfortable leaving your valuables locked in a hotel safe, or need to use them while you're out and about, wearing secure clothing is a great way to carry what you need without risking a potential catastrophe. There are many brands of clothing that boast discreet pockets in jackets, pants, scarves, shirts and more. The Clever Travel Companion tank top, for example, costs about $30 and has a zip pocket big enough to hold your passports, credit cards and cash across your chest. This gives you easy access to your stuff, while keeping thieves in the dark as to where you're carrying your valuables. These shirts are also great on short hikes so you won't have to worry about carrying a bag with you.
3. Stash Sandals
Keeping up with the incognito accessories theme, Stash Sandals are a great way to secure and hide your valuables during a beach vacation. Manufactured by beloved sandal-maker Reef, these flip flops feature a compartment in between the sandal and its sole, perfectly sized to stash cash, credit cards and keys.
4. Toiletry Sheets
With the ever decreasing size and weight allowances for luggage and toiletries in air travel, creativity is key. Travel accessory company Travelon has created the perfect solution to eliminate the need to carry around bulky toiletry bottles – toiletry sheets! These sheets come in body wash, hand soap, laundry soap, shampoo and conditioner, which you buy in sets of 2 for $10. Each unit has 50 biodegradable sheets inside that form to their function when water is added. These pocket-sized treasures are a must for your next camping trip or overseas adventure. Check out all their cool travel-sized gems here.
5. Steripen Traveler
For the more adventurous traveler, clean water may not always be available. This pen-sized travel gadget is perfect for situations in which you find yourself parched with no fresh/bottled water to indulge in. Using AA batteries, this pen can purify "200 half-liter servings of water," according to the Steripen website. The best part? It takes less than a minute! Create clean drinking water wherever you may be at no additional hassle and a minimal cost of $49.95 with this must-have gadget.
6. UV Wristband
These cheap bracelets can save you from pain and misery on any Caribbean or beach vacation. These bands, which you can purchase for about $5 per package, alert you when it's time to reapply that SPF. Simply put the suntan lotion on the bracelet when you apply it to your body, and the bracelet will change color when it's time to either re-lotion or get out of the sun's harmful rays. This is a great way to stay protected, and happy, on your tropical getaway.
7. Digital Luggage Scale
This handheld travel gadget is perfect for overseas trips, during which we tend to load up our suitcases with souvenirs for everyone we know. Save yourself money by knowing when you've hit the weight limit prior to arriving at the airport. Spend $15 or less on this three-inch wide hand-held device and save yourself potentially $50 per bag per flight for life.
8. Personalized Luggage Tag
Though these aren't gadgets in the way you would expect, personalized luggage tags use technology to help differentiate your bag from the dozens of other large black suitcases winding their way around the luggage belt. Add personalized quotes, photos or designs to a luggage tag and never confuse your bag again. You can create and purchase these for under $10 on Shutterfly. To do this in a more do-it-yourself fashion, you can also invest in a SwaggerTag, which retails for $5.99 or less. With Swagger Tag, you cut out and add in your own photo, but can also discretely hide your contact information inside. These are weather and impact resistant so won't get ruined along the way.
9. Noise Cancelling Headphones
Noise-canceling headphones are perfect for traveling on long flights or trains where noises can be a detriment to your patience and comfort. There's nothing more frustrating than listening to a screaming child for eight-plus-hours on an overseas flight. Wearing a pair of these allows you to enjoy your music, or even the simple sounds of silence, without hearing the commotion caused by hundreds of travelers in a confined space. Though this is the priciest item on the list, it's definitely worth it. Your peace of mind is priceless.
10. Selfie Stick
I know what you're thinking – selfies are only a self-obsessed millennial thing. However before you judge it, think about the enhanced photo opportunities a selfie stick provides you with during your travels. The selfie stick is actually a great way to take a picture of you and your family or friends in front of top tourist attractions. It eliminates the need to continuously ask a stranger or worse, never get a full family photo because you're swapping out a new designated photographer each time you take a shot. In addition, this eliminates the need to bring a digital camera on top of your smartphone. One less thing you'll have to worry about carrying around! Using a selfie stick is also a much safer way to get family vacation photos as you take a risk when you hand your expensive camera or smartphone to a stranger. True story to share – when I studied abroad, a group of girls I knew asked a passerby to take a photo with one of their cameras. They all crouched down to pose on the streets of Barcelona while the photographer had other ideas. He took off with the camera, leaving them standing there smiling as he darted away with the camera. For $25, the selfie stick is a gadget you will treasure.
Embrace technology and use these travel gadgets to make your next vacation a more pleasant, seamless experience. For very little money, you can enhance your trip in ways you'll certainly be happy about when looking back.
Signup for Vacation Deals
Exclusive access to private sales, customized specials & more