Five Wacky Roadside Attractions around Cleveland
If you ever announce casually that you are going to Cleveland for a week, you may be met with looks of sympathy, or a question: "Why?" With a characteristic self-deprecating humor, the city's residents point out that even the founder of the city didn't stick around. Moses Cleaveland is buried in Glastonbury, CT.
Despite its reputation as a boring city, Cleveland has a collection of fascinating roadside attractions that are worth a visit. Here are five that grabbed our attention.
Buckland Museum of Witchcraft and Magick
A fascination with folklore about witches and magic drove Raymond Buckland to visit Gerald Gardner's witchcraft collection on the Isle of Man. After seeing the fascinating relics, Buckland started his own collection in 1966. At first, it occupied the basement of Buckland's Long Island home, but soon the 500-plus artifacts needed a place of their own.
After moves to New Hampshire, a storage facility, and New Orleans, the collection made its way to Ohio in 2015. Today, it boasts some documented artifacts from the Salem witch trials as well as ancient Egyptian "ushabtis," or little dolls that accompanied deceased people into the afterlife. The collection is currently being restored, but will soon have a home in Old Brooklyn, seven miles south of Cleveland.
Smoky World War II Hero Dog Monument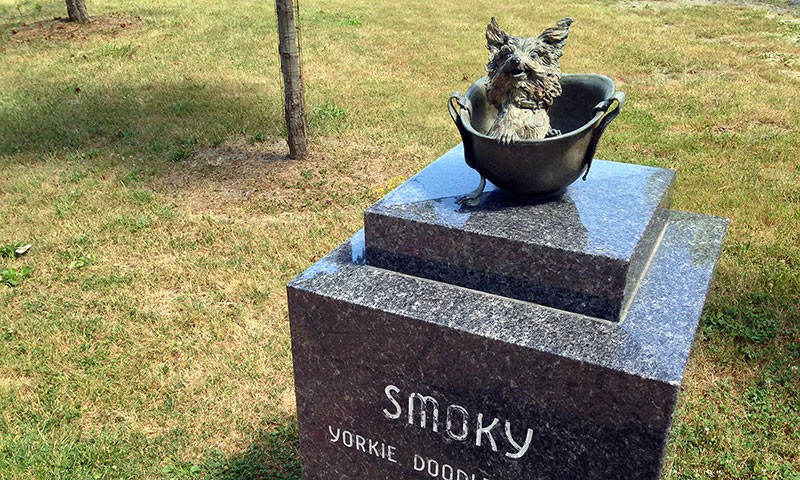 This tiny Yorkie puppy of unknown age was found abandoned in a foxhole in New Guinea during World War II. One of the soldiers, an American named Bill Wynne, adopted the four-pound dog, who liked sleeping in the soldier's helmet. Wynne soon discovered the dog, named Smoky, was uncommonly intelligent and unafraid. She not only flew in combat missions, but was also taught to drag a telegraph wire through a tunnel in order to set up an airbase on a captured Japanese island.
The first "comfort" animal, Smoky was brought back to Cleveland after the war, and visited wounded GIs in the hospital. She died in Cleveland in 1957, and was at least 14 years old. In 2005, the "Smoky and Dogs of All Wars" monument was erected on the Rocky River Reservation. It features a bronze statue showing Smoky sitting – and smiling -- in a World War II helmet.
World's Largest Outdoor Chandelier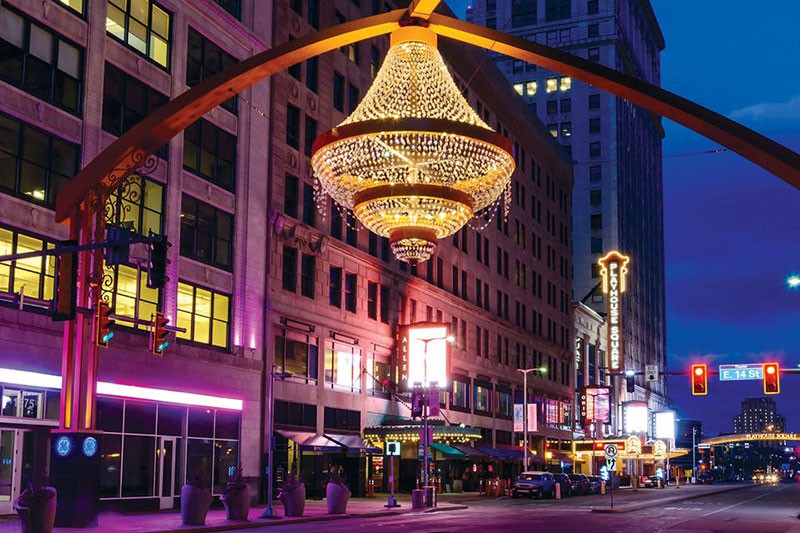 Playhouse Square in Cleveland is home to the district's four popular and historic theaters, built in an elegant style that reminds visitors of the Golden Age of the 1920s. The intersection of East 14th Street and Euclid Avenue, where the theaters are located, was a little dark and gloomy. So, in the 1990s, city planners came up with a brilliant idea: How about a gigantic chandelier hanging in the intersection?
The plan came together, and in 2014, the chandelier was installed. Built by the Canadian lighting manufacturer Lumid, it is made of stainless steel and holds 4,200 acrylic crystals and small LED lights. The good news: The city only has to change the lightbulbs every ten years.
The Hesslers: One Brick Street, One Wooden
In the section of the city known as University Circle, there are two intriguing and historic byways with the same name: Hessler. The area is primarily residential, filled with tiny homes occupied by students and hospital workers. It is a neighborhood under the constant threat of gentrification, except for one fact: the roads are paved with brick and wood. Brick-paved Hessler Road and wood-paved Hessler Court (at 300 feet, the shortest street in Cleveland) are historic holdovers from the 1920s. Roads paved with blocks of wood were not unusual in the 1920s and proved to be quite durable.
But there's more: the area is known as the Midwest's Haight-Ashbury and seems to be inhabited by ghosts of the 1960s: hippies, protesters and counter-culture. In 1969, the neighborhood association organized the Hessler Street Fair, still going on today, where you can step into the past with tie-dyed T-shirts, vegetarian food, poetry readings and folk music. Hessler Court—the only remaining Cleveland street with wood block paving—was listed on the National Register of Historic Places in 1975. So there, developers.
Museum of Divine Statues
Louis Chung is fascinated with historic religious statues. When he learned that the Cleveland Catholic Diocese was planning to close several local churches, he sprang into action. With his enthusiasm and dedication, he convinced the Diocese to allow him to refurbish St. Hedwig's, an aging 1970s church building, for the purpose of saving the city's religious statues.
A photographer and make-up artist, Chung has been collecting and restoring the statues for several years. After repurposing the church, he established the Museum of Divine Statues, and now curates a collection of Marys, Jesuses, saints and angels in the light of stained-glass windows obtained from the Diocese of Cleveland. The statues are of the old style; they are realistic and gruesome. You can see Saint Lucy, carrying her eyes on a platter, and the bleeding chest of Saint Sebastian pierced with arrows. Next to those is the statue of Joan of Arc, dressed for battle. All of these treasures could have been lost, but Chung persisted.
***
We could have included the world's largest rubber stamp, the world's largest paddle ball game or the curious collection of planets that have fallen on a roadside median strip, called "Planet Art – They Have Landed." Maybe another day.
Anyone can make fun of Cleveland. Its residents often do. But here we have given you five great reasons to visit this capital of midwestern culture. And we haven't even mentioned the Rock and Roll Hall of Fame. Still, as Comedian Yakov Smirnoff points out, "In every country, they make fun of a city. In the U.S. you make fun of Cleveland. In Russia, we make fun of Cleveland."
Special thanks to RoadsideAmerica.com for information about these attractions.
By Kay D. Harrison
Signup for Hotel Deals
Exclusive access to private sales, customized specials & more