Leave Your Riviera Maya Resort and Do Something Fun
So, you're trapped in a luxury all-inclusive Riviera Maya resort on the warm, wonderful Mexican coast with ten restaurants, five pools and an indulgent spa. Poor you! Don't you want to venture out to see the wonders of the Yucatan? Of course you do. So here are some unusual ways to pass the time in the Riviera Maya.
Mayan Ruins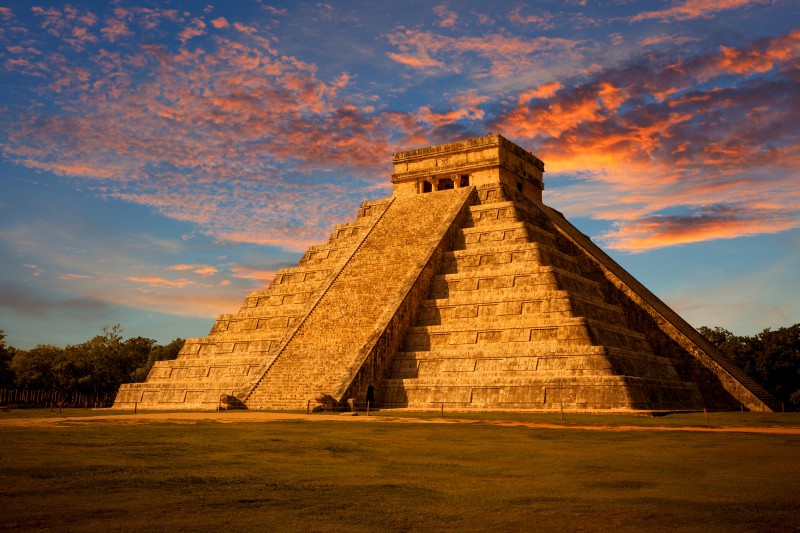 "Chicken pizza" and Tulum are the Mayan ruins everyone remembers. Climbing to the top of ancient pyramids on slippery, steep staircases has been a favorite activity for tourists, and it is said that the awesome view from the top of these ancient monuments can bring you to tears. That came to an end at one site a decade or so ago. There were actual tears.
In 2005, an 80-year-old woman visitor to Chichen Itza safely climbed the 91 steps to the top of El Castillo (wow!) but on the way down, she slipped and fell, tumbling the rest of the way down the steep steps. Horrified family and staff rushed her to the hospital, but her neck and head injuries were too severe and she died. As a result, you can no longer climb the ancient stairs of El Castillo at Chichen Itza.
There are some other sites where you can actually climb to the top on the ancient stairs to the sky. They are a little farther away, but worth the trip. The ruins at Coba are not as popular with tourists as the ruins at Chichen Itza, partly because they are not as accessible. To get to this archeological site from your Riviera Maya resort, you will probably want to rent a car.
Coba, which was a thriving Mayan city from AD100 until the Conquistadores came in the 1550s, had a complex system of stone causeways or "white roads." These roads connected residential enclaves to the main pyramid. Around the site, there are a number of carved stone statues, many depicting female rulers. The city was a powerful center of civilization, and rulers controlled water sources, farm lands and daily life from this seat of power.
One of the best ways to see this Mayan site is by renting a bicycle. The area is heavily forested and undeveloped, but it is well marked and easy to find your way to the main pyramid, the Ixmoja. It is around 140 feet tall and offers 120 stone steps that you can climb (if you want to). Be very careful going up and extremely cautious coming back down. It really is scarier descending. There is a guide rope to hang onto in the middle of the stairs, so use it. The view from the top is breathtaking, with the jungle lying all around the tower like a lush green blanket. You'll be happy you made the effort.
Tip: Go early in the morning. This is a jungle, with extreme heat and humidity, and no snow cone stands nearby. Bring water and lots of it. For lunch, stop in Coba Pueblo at one of the cute restaurants (El Bacadillo or El Paso) for some local cuisine.
Cave Diving
This sounds like a dangerous pastime, and it can be deadly if you're inexperienced or foolish. But there are beginner sites, and many diving tour companies can watch out for your safety in exchange for your money. It's a good trade.
The popular and touristy ruins at Tulum are located on the coast; Coba is about 30 miles inland. On the way from the ruins at Tulum to the ruins at Coba, the Gran Cenote is a popular site with a large surface area that is safe and suitable for beginners. If you first climb the 120 stone steps at Coba, the cenote is a great follow-up. You'll need the cool down, and it's just ten minutes away.
Cenotes formed thousands of years ago all over the Yucatan peninsula. The Gran Cenote has a large surface area and very clear water, so even if you don't dive into the caves, the snorkeling is amazing. You can rent snorkel equipment at the site, and any swimmer can do it. You'll see underwater formations, colorful fish and turtles, and even bats. The stalactites decorate the cave ceiling and stalagmites reach up from the cave floor. It really is a must-see, and you'll never forget it.
Xcaret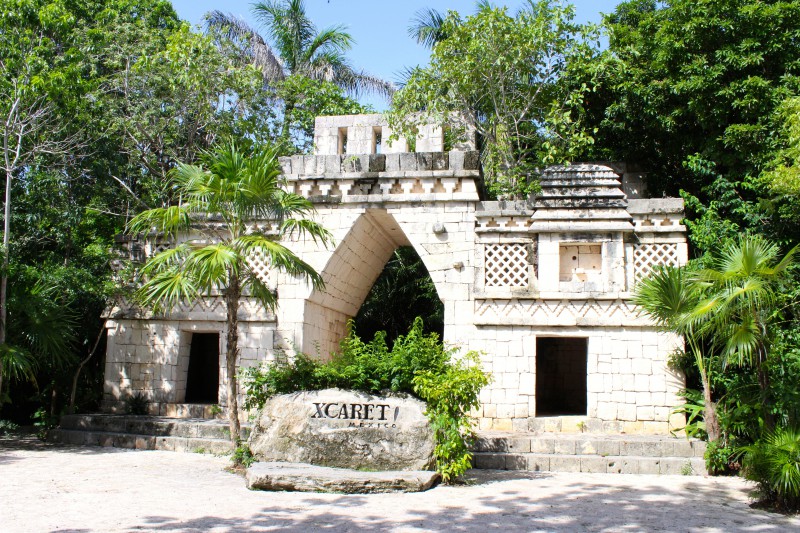 A day at XCaret will cost you about as much as a day at a Disney World resort, but it is a very different experience. Xcaret is an aquarium, a water park, a zoo, and an educational, cultural experience that makes Mexican citizens proud. The XCaret site is on the eastern coast of Mexico, opposite the island of Cozumel and south of Playa del Carmen. It is billed as an eco-archaeological park, but it is so much more.
At Xcaret (pronounced Ish-cah-ret, according to our Mayan guide), you can snorkel, swim in the caves by the sea, swim with dolphins and learn the history of Mexico within the walls of a typical 19th century mansion. Shop for gifts in the House of Whispers, where unique architectural features cause soft whispers to carry throughout the building. Walk through caves underground to a Mayan village where you'll hear a conch shell horn calling native dancers to an unforgettable performance.
For the more adventurous traveler, there are underground rivers where you can float along the river bed to the sea, and a superfast ride called Adrenalina that will take you on a high-speed chase across the water. Sharks, dolphins and stingrays are all available for design-your-own adventures. At night, the park comes alive with dancers, musical performances and spectacular celebrations of Mexican culture.
With all that, why would you stay in your all-inclusive Riviera Maya resort? Get out and explore. Immerse yourself in the fascinating culture and enjoy the natural attractions of Mexico. You can lie in the sun anywhere.
By Kay D. Harrison
Signup for Vacation Deals
Exclusive access to private sales, customized specials & more