Eco-Tours In the Jungles of Central America
The tiny nation of Costa Rica, tucked between Nicaragua and Panama, is a champion of sustainability, biodiversity and conservation. With coastlines on the Pacific and Caribbean oceans, its beaches are home to luxury, all-inclusive resorts that provide everything a tropical beach vacation can offer. But if you look deeply into the dark interior of the country, you'll find hidden treasures in the rainforest and high mountain terrain. The land of Costa Rica has a fascinating secret: it is home to more than 500,000 different species of plants and animals and intends to keep it that way.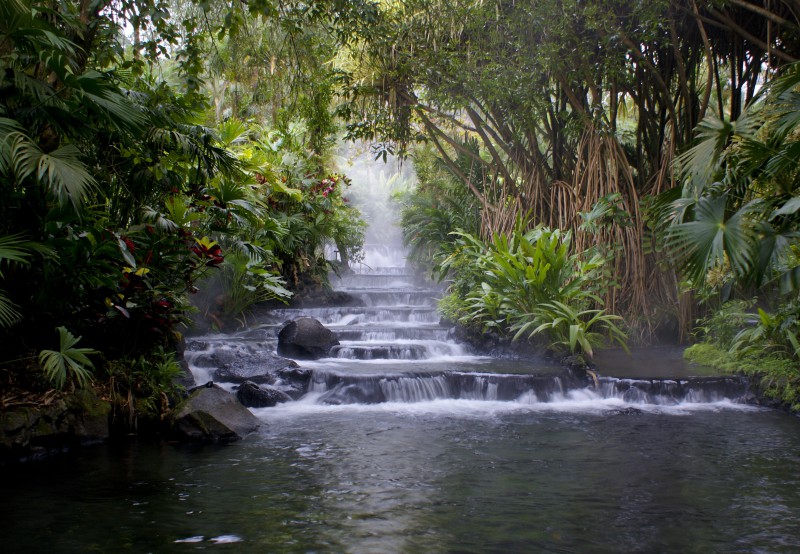 How to See the Wild Side of Costa Rica
Monkeys, toucans, jaguars, giant sea turtles and whales thrive in the forests and waters of Costa Rica. More than 25% of the country is designated as a conservation area, and species that live in these areas are fiercely protected against human intrusion. It is a national passion. Here are a few fun ways to experience the wilds of Costa Rica.
1. Canopy tours
Zip-line tours of the highest reaches of the forest were invented in Costa Rica. They bring you closest to the monkeys, birds and creatures of the high rainforest and also provide an exhilarating adrenaline rush. Wires are installed between wooden or steel platforms attached to tree trunks 80 to 100 feet off the forest floor. You ride down the wires, attached to a safety harness and pulley. Although you'll be traveling quickly along the zip-line, the views along the way are incredible and you'll have a chance to see the environment close-up from the platforms. You can find zip-line tours all over Costa Rica over waterfalls, through rain and cloud forests and in the shadow of a volcano. The best options are in Monteverde, Arenal and Manuel Antonio.
2. White water rafting
The torrential rainfall that drenches the high rainforest of Costa Rica has carved steep river canyons that twist and fall through unsettled tropical landscapes, creating some of the best white water rafting in the world. Costa Rica's rivers provide a variety of rafting experiences from gentle Class I and II rapids on the Pejibaye River to the wild Sarapiqui River where Class IV rapids give you the ride of a lifetime. Adding a safari float to your excursion will take you through quieter waters where you can observe toucans and other spectacular local birds and wildlife. Best options: The Sarapiqui River from Arenal and the Pejibaye River from San Jose.
3. Hiking to a volcano
Arenal is Costa Rica's most active volcano, and even though it has not spewed lava and ash since 2010, it is still seismically active deep below the crater. It can still occasionally leak smoke and hot lava flows that glow in the night. One of six active volcanoes in the country, Arenal is a perfect cone rising from green fields. The national park surrounding the volcano provides hiking trails to view the volcano, the deep lake that was formed on one side, and the hot springs where you can bathe in the warm waters. Best options are the guided tours provided at Arenal Volcano National Park.
4. Scuba diving or whale-watching
Scuba diving in Costa Rica is some of the best in the western hemisphere. On both the Pacific and Caribbean sides of the country, dive sites take you to shipwrecks filled in with colorful marine life, and areas that are frequented by giant manta rays and playful dolphins. You can also see giant Leatherback Turtles and monstrous whale sharks. One of the most popular dive sites is around Cano Island in Drake Bay, on the southwestern coast. Dive shops all over the island conduct trips and you'll be able to find one that will satisfy your underwater dreams. If you would rather stay dry, Costa Rica hosts many species of whales in the winter months, when they come to feed and raise their young. Costa Rica has the longest Humpback whale season in the world. They can be seen on the Pacific side during October and November. Best options: Whale watching boats launch from Gulf of Papagayo, Drake Bay and Parque Nacional Marino Ballena just south of Dominical.
5. Nocturnal wildlife sightings
If monkeys and toucans don't spark your interest, and a fear of heights or aversion to wild waters keep you engaged in safer pursuits, there is a different kind of wildlife in the resort nightclubs along the beach in San Jose where the wild humans come out to play. These energetic humans are known to dance to Latin music until morning and even sing karaoke after sipping the local beer. If this wildlife interests you, try Jaco Beach's Beatles Bar for live music, cold beer and great food. It's said to be the most famous club in Latin America. Best options: Just ask the concierge at your hotel.
By Kay D. Harrison
Signup for Vacation Deals
Exclusive access to private sales, customized specials & more