The Best Food Courts in Portland, Oregon
Search hotels in Portland near some of these popular food truck meccas and see where many of the nation's most innovative chefs and culinary trends are born.
While Portland has its fair share of fine dining establishments, the city has also built up quite a reputation when it comes to its street vendors. This isn't your normal cart food--imagine lots lined with trucks teeming with creative and delectable edible creations, and lots of outdoor space and seating in between where you can chow down.

The freedom allowed by these often independently run food trucks means you may just be tasting the next big thing in the culinary world.
Of course, there are so many food carts scattered throughout the city of Portland it would be hard to highlight just a few. Instead, we've compiled a list of some of the best pods—what they call the big lots where several carts congregate (ideal for sampling multiple items)—that Portland has to offer. Depending on where you choose to stay when selecting hotels in Portland, you may end up right next to one of these foodie destinations.
Cartopia
To satisfy those late night cravings, perhaps after a few stops at one of the local Portland watering holes, Cartopia has what you need. The stalls here take fast food staples like pizza, crepes, and sandwiches and elevate them with fresh ingredients and creativity.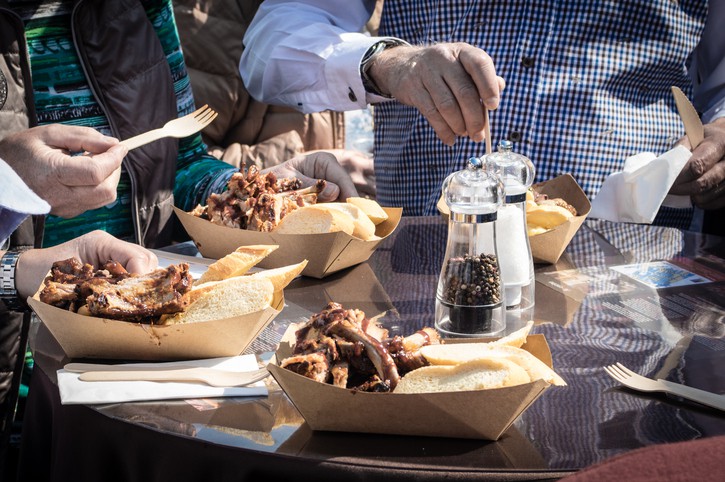 Portland State University
Hungry students flock to this popular pod on the Portland State campus for Portland Soup Company's gourmet soups and sandwiches, not to mention the authentic Thai eats at the Nong's Khao Man Gai outpost. Even if you're not enrolled, however, this is a great place to grab lunch, especially if you find yourself in one of the nearby Portland hotels.
Alder
Alder is an expansive pod filled with carts that will take your taste buds all over the globe, from tacos to authentic fish and chips—there's even another location of Nong's Khao Man Gai. There's some seating here, but why not grab a prime spot in nearby Director Park
Tidbit Food Farm and Garden
You may end up spending the whole day at Tidbit Food Farm and Garden before winding back to your Portland hotel. Grab some drinks at Scout's beer garden, shop for new clothes in an airstream trailer, then peruse your food options--there are many. Try a gourmet hot dog at Dog Town if you're in a summery mood, or a comforting bowl of ramen if there's a chill in the air.
Cartlandia
Another globe-spanning, multi-cart affair, located in Southeast Portland, Cartlandia allows visitors a chance to taste some of the areas must-have edibles. From the many Portland-made beers and ciders on tap at The Blue Room beer garden to the famed sweets of Voodoo Doughnuts, a trip to Cartlandia lets you feel like a local on your vacation.
Signup for Hotel Deals
Exclusive access to private sales, customized specials & more