There are tons of places to go and things to do in Europe, especially in the city of Paris. There are at least a dozen iconic monuments and historical buildings to see and just as many sights of the city to capture. The guided tours are always an excellent way to discover the culture and history behind each monument in the capital. More often than not Paris' beauty requires minimal explanation and going by foot is the only way to fully experience the authentic charm of the City of Light. You might just get lost and find yourself.
Put your comfy shoes on and get ready to explore! Hop on the Metro, rent a Velib', take the side streets and feed on the beauty of the city. Below is a suggested itinerary of the monumental tour of Paris:
1. Eiffel Tower
Directly across the Seine and Champ de Mars. Place du Trocadero is one of the best places to truly assess the size of the tower while the rest of the city spreads in the background. At 1,063 feet high, the Eiffel tower was the tallest man-made structure at the time of its construction for the World's Fair in 1889. The engineering prowess was to be dismantled in 1909, but remained after it proved useful for communications.
2. Musee d'Orsay
Learn the history of the French military on a stroll down the Champs de Mars to the Invalides. The main gallery and impressionists' collections alone are worth the €9 admission fee. Once there, check out the timeless works of Manet, Degas, Cezanne, Monet, Renoir, Van Gogh, Gauguin, and Rodin.
3. Musee du Louvre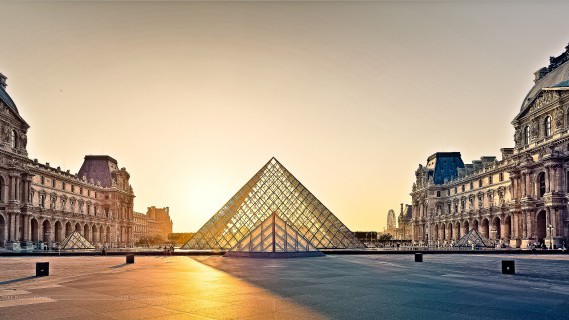 Cross the Pont Royal to the Louvre and Jardin des Tuileries and admire the juxtaposition of contrasting architectural styles where the ultra-modern Pyramid sits in front of the classical Musee du Louvre. Next to it is the garden of the Tuileries that was modeled after Italian Renaissance gardens of Florence at Queen Catherine de Medicis' demand in the 16th century which was considered the most beautiful garden of Paris at the time, it became a public park after the French Revolution.
4. Opera de Paris
Take a detour north to the Palais Garnier and enjoy the beauty of the fifty-two 20-meter high Roman Temple-inspired church. West of the Opera, is the Madeleine, built to the glory of Napoleon's army, the church still celebrates masses and others religious services daily. Rue Royale will take you straight back to the Place de la Concorde.
5. Avenue des Champs-Elysees
The world famous avenue links the Place de la Concorde to the Place Charles du Gaulle and allows you to admire the Arc de Triomphe, the Obelisk in Place de la Concorde, the Tuileries Gardens, and the Carrousel du Louvre.
Ready to book your next European adventure? Check out our Europe vacation deals.
Signup for Vacation Deals
Exclusive access to private sales, customized specials & more