New Orleans Hot Spots: Grab a Drink, Or Two, Or Three
You have vacation days saved up, and the fact that you're using them at all is cause enough to celebrate. Now you just need to figure out where to go. For an unforgettable time with friends, there's no better place for celebration than the city of New Orleans, considered by many to be one of the top party places in the country.
Make your way there to enjoy delectable eats, great music, and palate-pleasing cocktails as you and your fellow revelers dance through the city streets. So what are you waiting for? Why not get some friends together for a fun-filled trip down by the bayou? With connections to some of the best deals on the market for hotels in New Orleans, Dunhill Travel Deals makes living it up in the big easy, well, easy. Just book your stay now and get ready to get down. Once you've booked your hotel in New Orleans, you know it's time to party. Here are some of the best spots to celebrate, fit for every type of traveler.
The Street
This isn't the name of a bar—liquor laws in New Orleans allow you to walk around freely with an open alcoholic beverage (as long as the container isn't glass), and many locals and visitors take full advantage of this. Don't be surprised to see other travelers leaving your New Orleans hotel with a tall can of Budweiser in their hand, no matter what the hour is.

For many, the nonstop party of the central French Quarter happens right out on the cobblestoned streets, and often involves carrying a tall styrofoam cup filled with a daiquiri. For those frozen concoctions, you'll have to find one of the many storefronts lined with frozen drink dispensers, each with its own playfully named and downright boozy cocktail.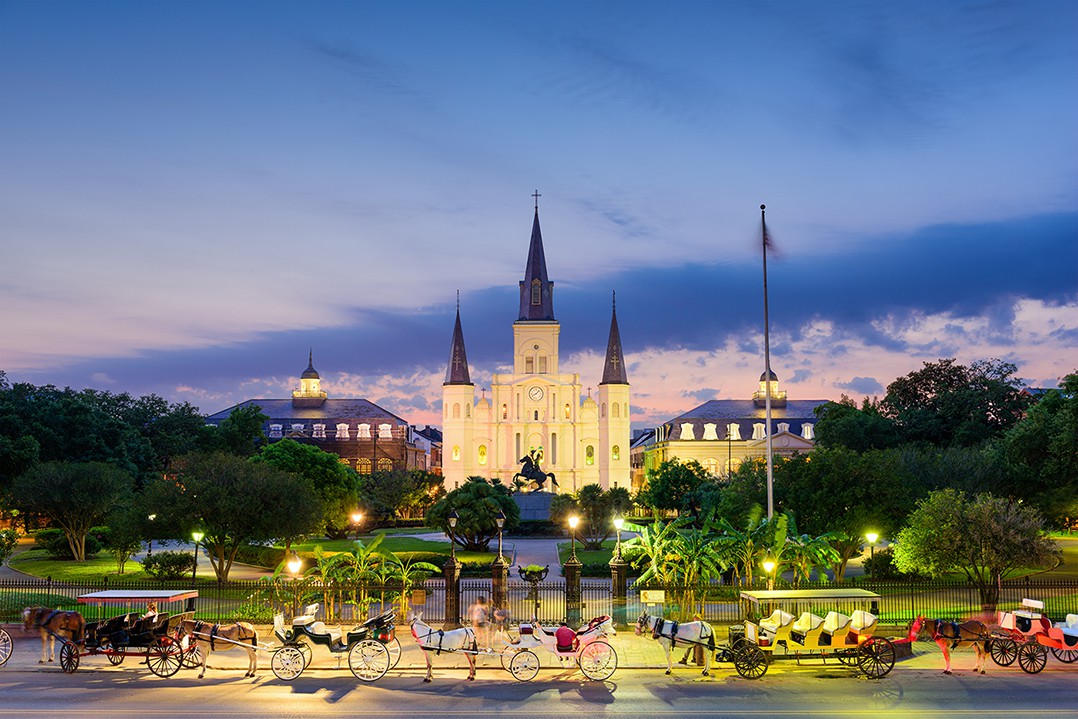 Erin Rose
The French Quarter is, admittedly, pretty chaotic all of the time, but it does have its quiet pockets with lots of upscale restaurants and trendy cocktail bars resting on its fringes. Somehow in the middle of it all, Erin Rose manages to be a pretty chill hang out spot, with a great frozen coffee and bourbon drink.
The Spotted Cat
For when you're looking to dance or just take in some of the local music scene, The Spotted Cat is the place to be. You can hear the music booming from down the block on Frenchman Street, and once you follow the sound to the constantly busy front door, a cheap cover charge gets you right in. Affordable drinks and, of course, the music, might keep you there all night.
Siberia
Most of the best garage and punk rock bands touring the country will play Siberia on their New Orleans stop. A great bar that often mixes local and touring talent into rip-roaring nights of music, there's also a much-loved Polish and Slavic restaurant in the back. You'd be none the wiser to fortify yourself with some pierogies, grab a beer and shot, and rock out all night.
Bacchanal Wine
At the edge of the Bywater neighborhood, Bacchanal Wine is for the refined partygoer. Bring friends and buy a bottle of vino at this wine and cheese store, then bring it to Bacchanal's elegant backyard. Select some cheeses from their fridge case and they'll even make a cheese plate for you to nibble on as you make your way to the bottom of the bottle (and onto the next one, of course).
Signup for Hotel Deals
Exclusive access to private sales, customized specials & more