Celebrating Kansas City's Jazz Heritage
Kansas City was the birth of the Bebop movement. When you're staying at Kansas City hotels, dive into the world of jazz by attending some celebratory events.
The Birth of Bebop
Before Bebop, jazz was mostly comprised of big band-style pieces. However, Count Basie began to change things up when he joined the Bennie Moten's Kansas City Orchestra. With his piano skills, he heralded in a new age of bluesy swing to the orchestral scene.
The genre was further changed by the emergence of Charlie Parker, who truly started the wave of Bebop. Instead of playing a prearranged solo during a musical piece, instead, he played at random, using the 12 semitones of the chromatic scale.

This style of playing was more exciting than previous jazz, as it utilized a faster tempo and numerous key changes to keep things fresh.
Today's Kansas City Jazz
Over time, Kansas City jazz has evolved even further. Today, it's often a more relaxed feel than other types of jazz due to the four-beat feel. Solos also play a bigger role in Kansas City jazz, as well as music played by memory rather than by reading sheet music. Different sections of the jazz band also use riffs in their music to help add more excitement and swing to a particular song.
Kansas City Jazz and Heritage Festival
The spirit of Kansas City Jazz is kept alive today by the Jazz and Heritage Festival. This annual event features a number of local musicians in a number of genres, including standard jazz, blues, and soul.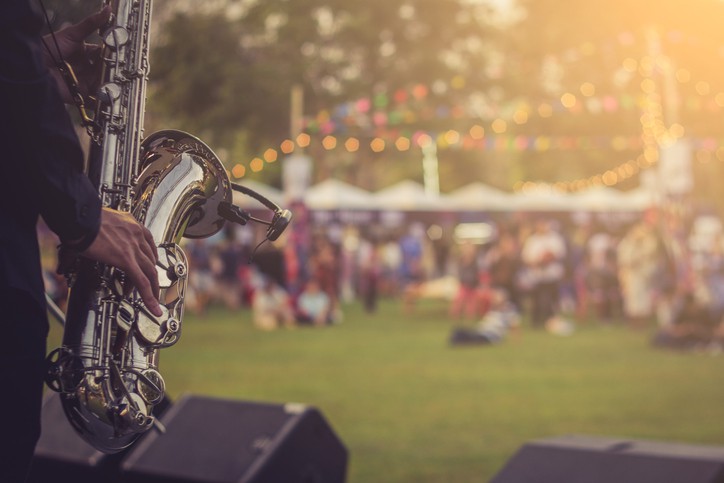 With five separate stages, the festival has nearly limitless listening opportunities, allowing attendees to stroll around at their ears' leisure. In previous years, musical acts have included the McFadden Brothers, Chick Corea Trio, Lalah Hathaway, John Scofield, Brandy, Yazz, and many more notable names.
Typically, the event occurs every May. Visitors can buy single-day passes valid for either the main stage or all stages, as well as a four-day pass that lets them access every performance the entire festival.
Because the jazz fest is so popular, it's important that you book hotels in Kansas City as early as possible if you want to go and celebrate this city's important heritage. That way, you'll be able to stay right near the action along the 18th and Vine District, 18th and Highland, or the main stage at The Paseo.
Signup for Hotel Deals
Exclusive access to private sales, customized specials & more