5 Tips For Seeing the Sights In a New City
So you've done it! You've booked your flights, scoured the internet to find the best hotel deal and are mentally prepared to embark on the ultimate vacation. You can hardly contain your excitement, but those adrenaline-pumping thoughts are also paralleled by the fear that you'll be asked upon your return about an attraction you completely missed. ("What did you think of Big Ben?" "Ben who?")
Though you'd like to stay forever, you know your time will be limited, so how can you actually get to see everyone's recommendations in one shot? Being fully prepared for your trip is key to a successful, story-worthy trip. Armed with these tips, your fears of missing out won't become a reality.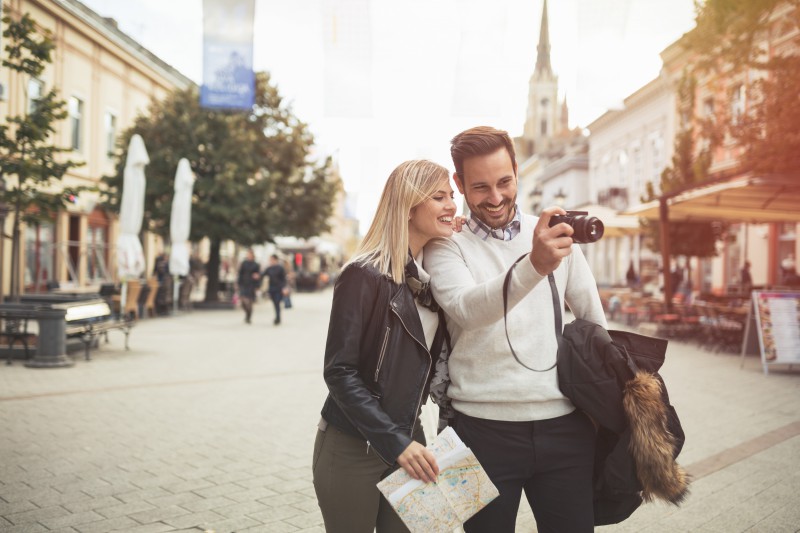 1. Research, research, research.
How could you possibly know what you must see if you don't even know what's there? Before you step aboard the aircraft, make sure you've done your homework. One of the greatest resources may actually be the most convenient – your family or friends who have been there, done that. Ask them which sites you'd regret missing and what they saw that you could do without. Read travel articles, blog posts, visitor reviews and travel guides – any information you can get your hands on so you have a good sense of what to see and do. The last thing you'll want is to waste precious minutes of your limited time in a new city figuring out where to go and how to get there. When traveling, time is certainly of the essence, so make every moment count.
2. Make a list, and then another list.
There's no better way to have a successful vacation abroad than arriving prepared. After you research all the amazing sites and attractions the city has to offer, I highly recommend you begin making lists. So you don't go overboard or overwhelm yourself, I suggest making just two. The first list should contain everything you would be absolutely devastated about not visiting before your trip is over. The second should be a list of additional things you would like to do if time permits and you're able to fit it into your busy schedule. Here is an example below of what a dual-list like this could look like for London, England.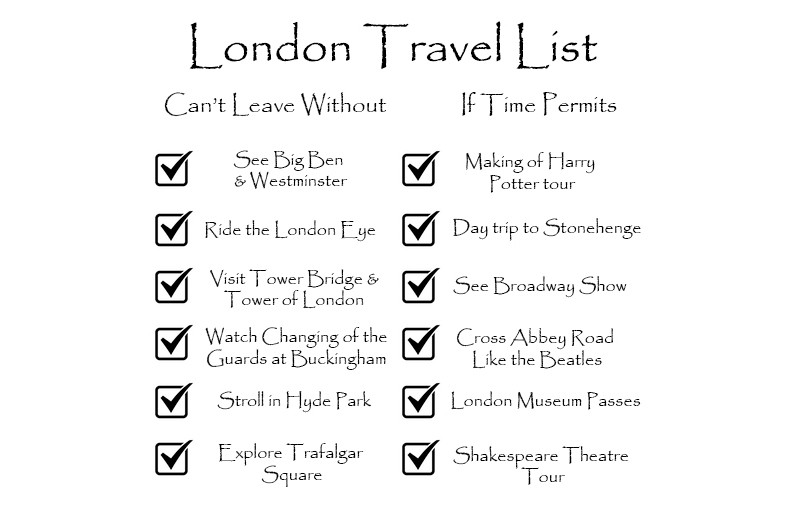 3. Print a map, yes PRINT a map.
Before you go, you'll want to get an idea of where all the sites are in relation to not only your hotel but to one another. There's no bigger time waster than going to opposite ends of the city in the same day when two of your must-see attractions are side by side. (And trust me; this happens to travelers all the time!) The best way to plan this out is by printing a map of the city and using the list you made above to mark off all of the sites you won't leave without seeing in one color and the time-permitting sites in another. Bring this map with you and let it be your guide in planning the order of operations each day you're there.

4. Do a "Hop-On, Hop-Off" tour.
If all of the above seems like a little too much work for your mind that's already switched onto vacation mode, buying tickets for a Hop-On, Hop-Off bus tour is a great backup plan. Though it seems like the corny, touristy thing to do (which it is) a hop-on, hop-off tour is an efficient way to see all the major sites in a particular city. For some attractions, all you really want is a picture while other attractions you'll want to explore in-depth. Through a Hop-on, Hop-Off tour, you'll get the best of both worlds: plenty of pictures from the top deck and then time to explore the site and hop back on the next bus.
5. Leave a little room for spontaneity.
This last tip may seem somewhat contradictory, however, when strategically allocated, it will only enhance your experience in a new city. Did you see that adorable café on the corner with a line out the door? How about that gorgeous park another traveler in line said you must stroll through at dusk? What about that cultural festival that's only in town for one day? While traveling, there may be exciting events or off-the-beaten-path locations you'll want to discover. By jam-packing your day, you may miss some memorable and authentic opportunities to see another side to the city you're visiting. Leave some room in the schedule for these events that may pop-up last minute.
Pack these tips in your mind, so you'll know just how to explore a new city. Go on, and get ready for a rewarding vacation in which you can conquer all.
Signup for Hotel Deals
Exclusive access to private sales, customized specials & more