Quintessential Historical Philadelphia Hotels
Many of the hotels in Philadelphia have been around since the city's early years. Next time you're in the area, stay in one of them to get your history fix.
Morris House Hotel
Originally constructed in 1787, the Morris House Hotel was formerly the home of the Morris family, which moved from England to Philadelphia 100 years prior. Locate on South 8th Street, it has stood through many of the city's important historical events.

It was added to the National Register of Historic Places in 1967, and today you can enjoy the luxury feel of this quaint bed and breakfast boutique.
Penn's View Hotel
Also on the National Register of Historic Places, the Penn's View Hotel was built in 1828 and was originally a large warehouse space. Today, it features 51 Colonial-themed guest rooms in bed and breakfast-style accommodations.

In addition to top-of-the-line service, you'll enjoy the exposed brick walls of your room and riverfront views off of your private balcony. The hotel is located in Old City and is within walking distance to many of Philadelphia's historic places, including the Liberty Bell.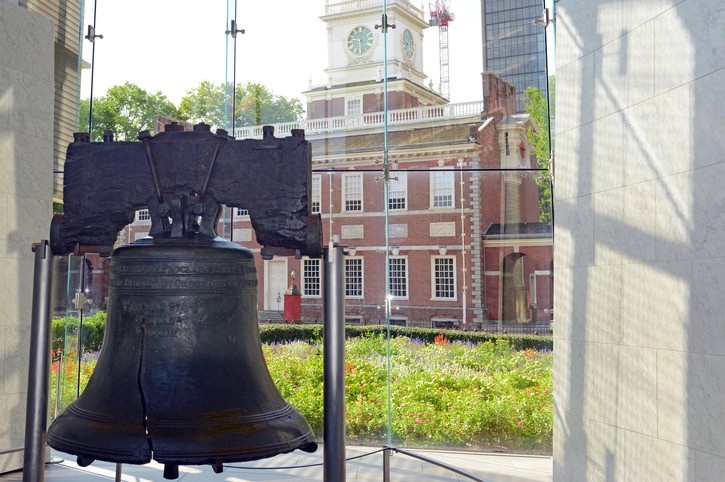 Loews Hotel Philadelphia
If you're walking around Philadelphia, the first thing you'll notice about the Loews Hotel Philadelphia is the large "PSFS" sign looming on the roof. This stood for the Philadelphia Saving Fund Society, which was the first tenant of the building back in 1932.

However, in 2000, it was converted into the 581-guestroom hotel. The nation's first skyscraper, the Loews has a great location in Center City and is also walkable to places like the Liberty Bell.
The Hyatt at the Bellevue
The Bellevue-Stratford hotel was constructed in 1904 and still exists as one of the most beautiful buildings in the entire city. While it has seen a lot of history, it's perhaps most famous for hosting John F. Kennedy in 1963, just a few weeks before his assassination.

Today, it's been converted to the Hyatt at the Bellevue and features an elaborate grand staircase and a decadent grand ballroom. The rest of the building functions as a hub for the social and business community of Philadelphia and proudly bears the nickname "The Grand Dame of Broad Street."
History abounds freely in the City of Brotherly Love. If you're truly dedicated to staying in a place that has a story to tell, there are plenty of Philadelphia hotels to meet the bill.
Signup for Hotel Deals
Exclusive access to private sales, customized specials & more