Savannah, Georgia | Romantic Weekend in Savannah
What city in the United States embodies hospitality, romance and history? If you said Charleston or New Orleans, we forgive you for that, but you get extra credit if you guessed Savannah, Georgia. For historic homes, formal flower gardens, and amazing parks, it's the winner.
If we had only a weekend to spend in this coastal Georgian city, we would arrange lodging in a romantic bed and breakfast, visit a fine restaurant for authentic southern cuisine, and spend a few idyllic hours in the great outdoors to enjoy the Spanish-moss draped trees and the serenity of the Savannah River. So that's what we did.
Friday Night Dinner and a Stroll Down River Street
From our River Street hotel, the Olde Harbour Inn, it is an easy walk to many outstanding restaurants. The cobblestones underfoot come from all over the world, brought as ballast in sailing ships in the 18th century. Dumped in the harbor, they made a convenient building material with international flair, originating in the British Isles, Canada, France, Portugal, Spain and scattered islands.
Some atrocious goings-on occurred here on River Street. Indentured servants from Europe and slaves from Africa were brought to River Street and made to unload heavy cargo from ships in the harbor. Many died or were later sold, making River Street a miserable place. It is reportedly one of the most haunted places in the city. To complete the trifecta, it was also the site of a Native American burial ground. So, spirits are everywhere.
Nevertheless, the restaurants and shops are the best in the city. We decided on The Cotton Exchange Seafood Grill and Tavern. It really looks like a European-style tavern, with exposed brick and fieldstone, dark gleaming wood and cozy booths. We finished a delicious local seafood dinner, with grouper, shrimp and snapper and made our way back to the hotel.
Saturday Morning Kayak Trip
Savannah's low country of marsh grasses and tidal creeks is a huge temptation for ardent kayakers like ourselves, so we arrange to rent a couple of boats from Savannah Canoe and Kayak, and take a tour of Little Tybee Island, southeast of the city. We want to paddle around the many salt creek trails among the tall grasses, where we might see herons, alligators and even dolphins in some places. The 3-hour tour starts at 9 a.m., but tours are tide-dependent, so we called ahead of time to schedule. At the meeting spot, we joined a tour guide and six other participants. The kayaks were delivered by truck, so we donned our life jackets and we were ready to go.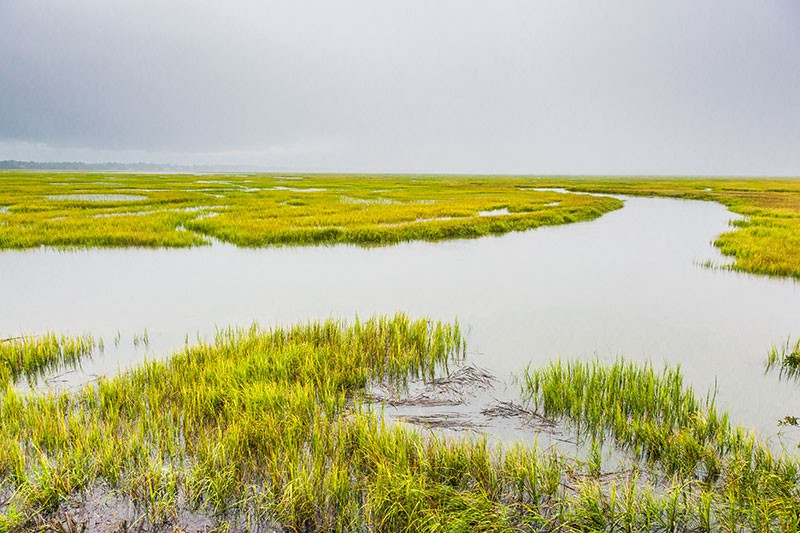 It's amazing that the southeastern seaboard of the United States has so much untouched wilderness. The island is only accessible by boat, and there are no houses or towns as far as the eye can see. And the eye can see very far, because the area is absolutely flat. The serene waterways flow between tall, light green grasses where we could see herons picking for fish. Overhead, the whistle of ospreys could be heard, and they looked just like little eagles soaring into the onshore breezes.
We did not see alligators or dolphins, but the guide assured us that she had seen them there before. After a six-mile run through the twists and turns of the salt creek, I was completely lost. Luckily, the guide brought us back to our starting point. It was an experience I will never forget, and the high point of the weekend.
Saturday Afternoon Riverboat Cruise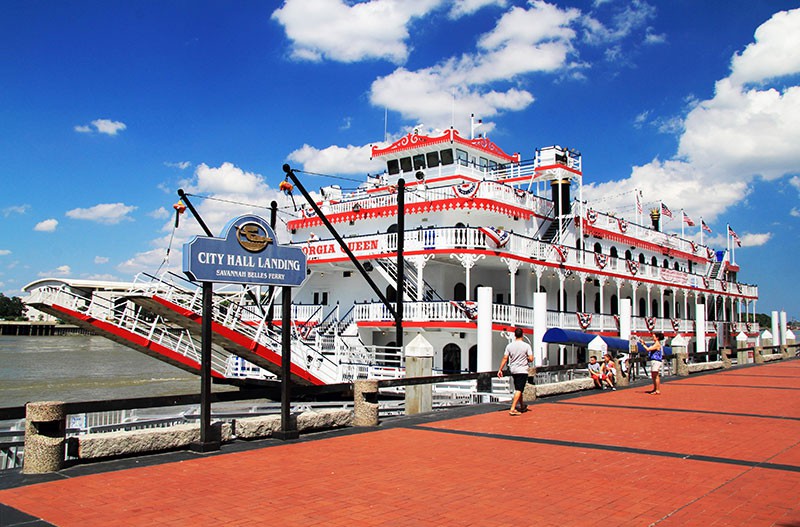 After a morning of paddling a little boat on the water, we decided to take a big paddleboat on the water. We found Savannah Riverboat Cruises on River Street, just a short walk from our hotel. The company offers 90-minute cruises on the Savannah River aboard an authentic-looking riverboat with a large red paddlewheel. Cruises include narrated brunch, dinner, moonlight and sunset cruises around Savannah's waterfront with one of the captains narrating the tour. History, culture, rumor and humor were all part of the entertaining narration on the cruise, which took us down the river to Old Fort Jackson. Military history buffs will love this place – it has the oldest and largest artillery pieces in the country.
Romantic Dinner at Elizabeth on 37th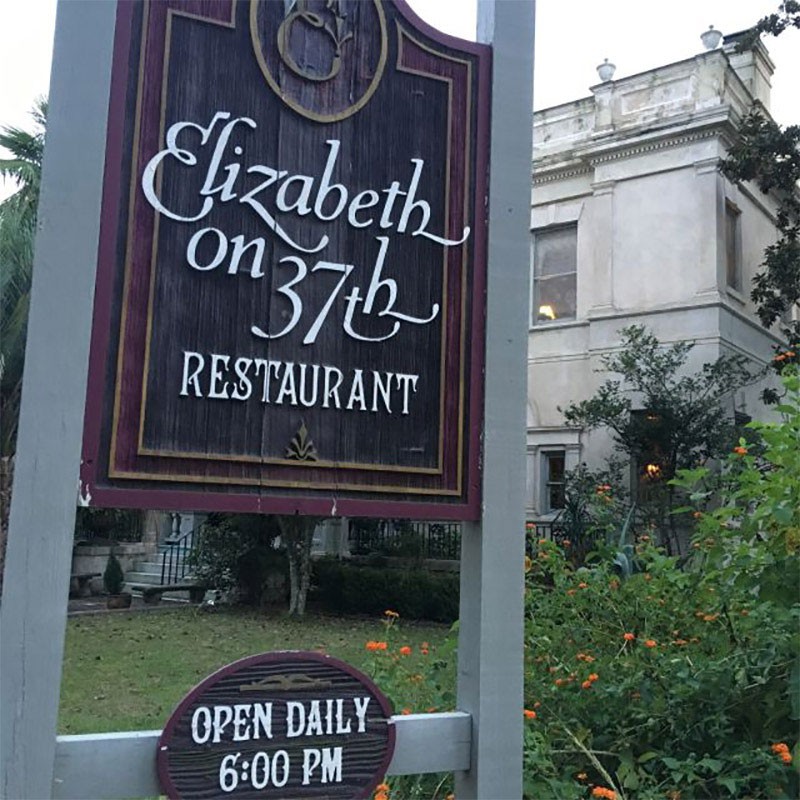 We've been in Savannah for 24 hours and have not explored the mansions and formal gardens of the historic district. So, for Saturday dinner, we picked a romantic restaurant in a 1900s mansion with a Spanish moss-coverd garden in the back. At Elizabeth on 37th, the menu includes traditional Southern cuisine like sage grits, roasted vegetable hash and local seafood dishes. If money is no object, there is a Chef's Tasting Menu providing a 7-course meal for $90, or $130 with wine. The restaurant is stunning, furnished in period antiques with small dining areas that make the experience an intimate delight.
Adults-Only Dead of Night Tour
Savannah has been called America's paranormal paradise and the most haunted city in the country. In fact, this is such a haunted place, we had our choice of many ghost tours. We chose an 11 p.m. tour called "The Dead of Night," and were not disappointed. The guide took us down historic streets to locations where the city's darkest hauntings have happened, and told the gruesome stories of murder, demonic possession and untimely deaths that caused spirits to become restless.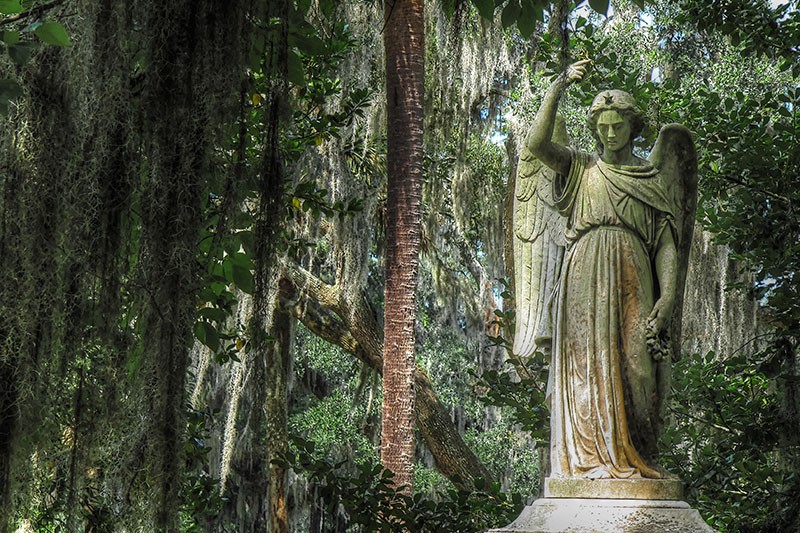 There are so many stories of hauntings here, and the historic mansions made a perfect backdrop. Looking up, I kept imagining ghostly images in the dark windows. It was spooky, but also funny. Our guide was hilarious, using undead puns and ghastly jokes to relieve the tension. He also had photos and videos on a tablet that showed evidence of some hauntings. The ethereal image in a graveyard of a small boy flying up a tree trunk stuck with me!
Sunday Brunch and Departure
When it came time for our farewell brunch, we wandered down River Street and came across Huey's. It is actually more like a New Orleans restaurant, with shrimp creole and pasta jambalaya, but it was a perfect place to stop, housed in an 1817 cotton warehouse. The restaurant is right by the river - with floor to ceiling windows - and serves some very famous beignets popular with locals. Besides, we couldn't leave Savannah without trying its signature dish, shrimp and grits. (It was the only part of Savannah I didn't care for.)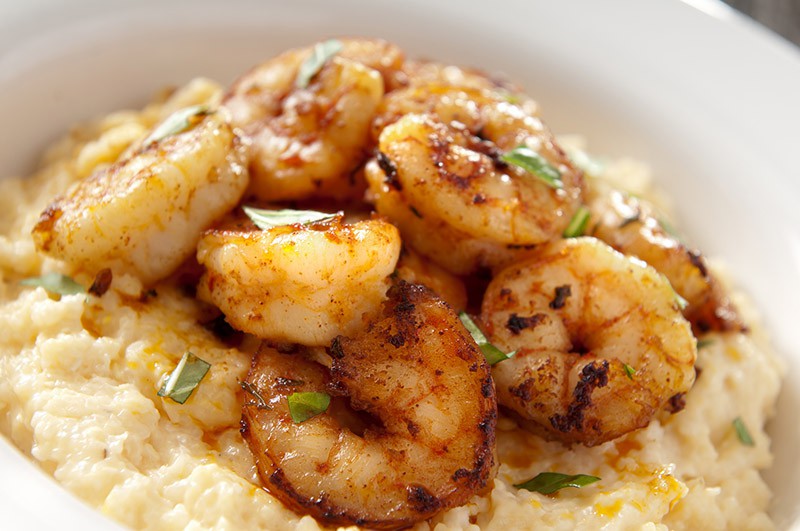 If I had more time, I would save a few hours to wander through Forsyth Park, sample ice cream from Leopold's and maybe have a picnic in Bonaventure Cemetery. But it was time to go. Our weekend in Savannah was a memorable respite from normal routine, full of fascinating history, unspoiled nature, culinary excellence and romance.
By Kay D. Harrison
Signup for Hotel Deals
Exclusive access to private sales, customized specials & more