Quirky Things To See In Key West, FL
With October 31st coming up fast, we thought you'd like to know about Fantasy Fest in Key West, Florida. But there is more to this wacky island destination than the Halloween Parade with all-adult themes. Here are a few weird and worthwhile Key West wonders.
Fantasy Fest
Hotels on the island fill up – and raise rates significantly – for Halloween week's imaginative Fantasy Fest. This 10-day spectacle consists of street parties, parades, a Burlesque parody, all-male headdress revue and animal parties where you must wear a tail. Be forewarned, this is a wild celebration with nudity and adult themes, not suitable for impressionable children. You'll see bawdy pirates, bodies painted in colorful designs (wearing nothing but paint), and ladies of the evening – many of whom will be male.
The theme for 2015 is "All Hallows Intergalactic Freak Show," so costumes will be out of this world and freaky. Expect UFOs, Martians and other aliens along with the more mundane ghouls and zombies (maybe even alien zombies). The party lasts for 10 days, if you can. It culminates with the 3Wishes.com Fantasy Fest parade on Saturday night, when more than 70,000 revelers on floats and on foot will dance or roll down Duval Street. Check out the Fantasy Fest schedule of parties, festivals, contests and events.
Dry Tortugas National Park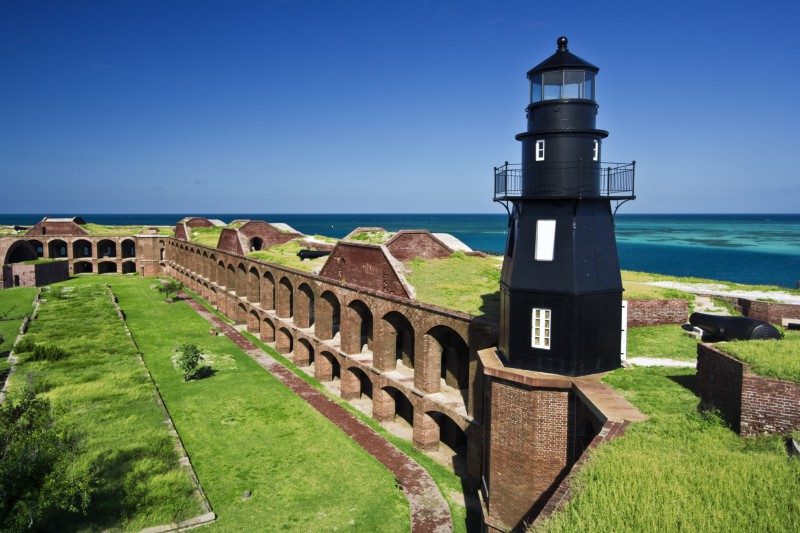 This attraction is wild, too, but in a completely different way. Dry Tortugas National Park is a group of seven small islands dominated by a 19th century brick fortification named Fort Jefferson. The national park, which is mostly water, lies 70 miles to the west of Key West. This historic site is only accessible by boat or float plane. The allure of this destination is not the fort, although that is magnificent; it is the crystal clear water and the colorful marine life.
Snorkelers and divers flock to Dry Tortugas to see bright tropical fish and thriving coral reefs. In some seasons, you'll see sea turtles and nurse sharks. Camping is permitted in the park, and if you want to feel as if you've been stranded on a desert island, bring a tent and sleeping bag. You'll have to pack in all food and water and pack out all your trash. At night, when the tourists leave, the beaches are quiet, the stars are brilliant and you are alone.

Key West Ghosts and Gravestones Frightseeing Tour
If you think Key West is a little strange during the day, you'll want to see what happens on the dark streets of Old Town and in the town cemetery at night. The Travel Channel has identified Key West as one of the "most haunted" locations in the U.S., and it has been ranked number four of the ten most haunted cities in the country by Haunted America Tours.
On the Ghosts and Gravestones Frightseeing Tour, you'll encounter haunted houses and restaurants that contain the tortured souls of quarantined and abandoned yellow fever patients. You'll meet a cursed doll named Robert, who was the inspiration for Chuckie, the doll in the 1988 horror film Child's Play. At the Old Town Manor House, you'll hear stories of guests who all experience the same dream, of a doctor pacing back and forth on the first floor. On the porch of the famous Audubon House, people swear they see the apparition of John James Audubon himself, who was once thought to be the missing son of Louis XVI and Marie Antoinette. The ghost is dressed in the French style of a ruffled shirt and long jacket.
"I told you I was sick" is one of many humorous messages on headstones at the Key West cemetery. The town cemetery was washed away in a hurricane in 1846, but the bodies didn't disappear. They began to wash up on shore after the storm passed. The new cemetery contained many of these displaced bodies, unidentified and reportedly restless. The night tour of the cemetery is full of ghost stories and history and a few moments of sheer terror.
The Ernest Hemingway House and the Six-Toed Cats
Ernest Hemingway was Key West's most famous citizen. He was also a huge cat lover. A ship captain and friend of Hemingway's gave him a white kitten which he named Snow White. The kitten was polydactyl, meaning that it had extra toes. As the cat bred, the hereditary trait was passed on to generations of Hemingway kittens, and many of the 45-50 cats that still live at the Hemingway house have six front toes.
Hemingway named all of the cats after famous people, and the caretakers of the house and museum continue that tradition today. Many of the cats recognize their names and come when called. If you hate cats, especially cats with thumbs, don't go to the Hemingway House while you are in Key West. They are everywhere. Otherwise, it is an interesting look at the life and times of one of our nation's finest writers.
Captain Tony's Saloon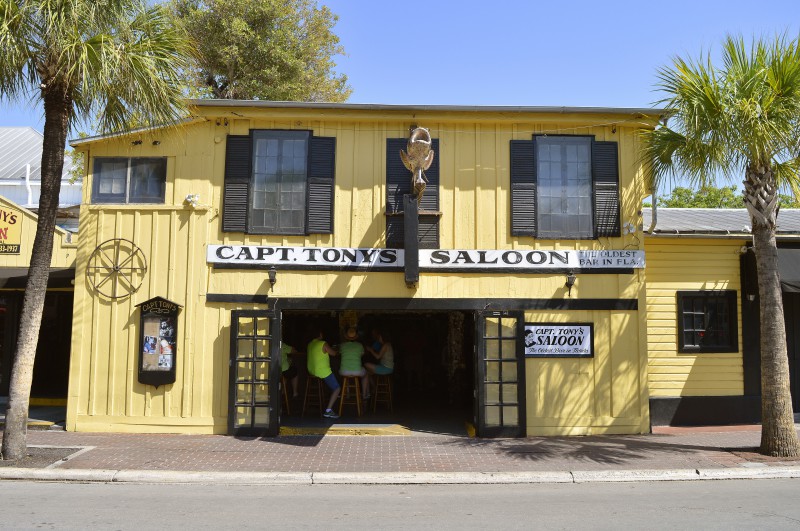 "Went down to Captain Tony's to get out of the heat
When I heard a voice call out to me, "Son, come have a seat."
So begins the Jimmy Buffet song, "Last Mango in Paris." Captain Tony's Saloon is a Key West bar frequented over many years by artists, writers, musicians and politicians. Whenever a celebrity came in, a bar stool was inscribed with his or her name. You can see bar stools named Truman Capote, Ernest Hemingway, Jimmy Buffett and John F. Kennedy, among others.
Captain Tony's Saloon, pictured above, is located at 428 Greene Street in a building that was constructed in 1852 as an ice house that doubled as the city morgue. It also housed the telegraph office that reported the sinking of the Maine in Havana Harbor in 1898. The building has been a cigar factory, a bordello, a speakeasy named The Blind Pig, and the famous Sloppy Joe's Bar, where Ernest Hemingway spent most of his evenings. Eventually the bar was bought by a local captain, Tony Tarracino, who often hosted singer/songwriter Jimmy Buffett in the 1970s. He sometimes paid Buffett in tequila. Buffett often comes in for a drink now, but doesn't perform there anymore.
Captain Tony once caught a huge Jewfish and had it preserved. It hangs over the sign in the front of the saloon. It is said that if you toss a quarter into the big fish's mouth, you will have good luck until you leave the island of Key West. It's worth 25 cents to give it a try.
Signup for Hotel Deals
Exclusive access to private sales, customized specials & more