Where To Find the Best Beach Getaway
As the last of the leaves begin to fall off the trees and the breezes cool, you know winter is just around the corner. Soon it will be time to plan your next trip to one of the world's best beaches. Get ready to venture over to one of the following picture-perfect beaches guaranteed to take your breath away:
Shoal Bay East & Upper Shoal Bay, Anguilla
This Caribbean island in the British West Indies (featured in the image above) is best known for its scenic coral reefs, turquoise water and white-sand beaches. With an average monthly temperature of 80 degrees, this is the perfect spot for your next getaway. Shoal Bay East is probably the most well-known and trafficked beach on the island with plenty of beachfront restaurants, bars and hotels to entertain tourists from all over the world. Snorkelers love exploring the coral reef on the eastern side of the beach, home to quite colorful and mesmerizing creatures. For those looking for a less crowded more private area, head to Upper Shoal Bay. Due to a highly concentrated amount of halimeda flakes (a type of algae) that erode off of the coral reef and are swept ashore, Upper Shoal Bay arguably has the whitest sand on Anguilla and maybe even in the whole Caribbean. The uniqueness of this practically snow-colored sand makes it one of the world's best beaches.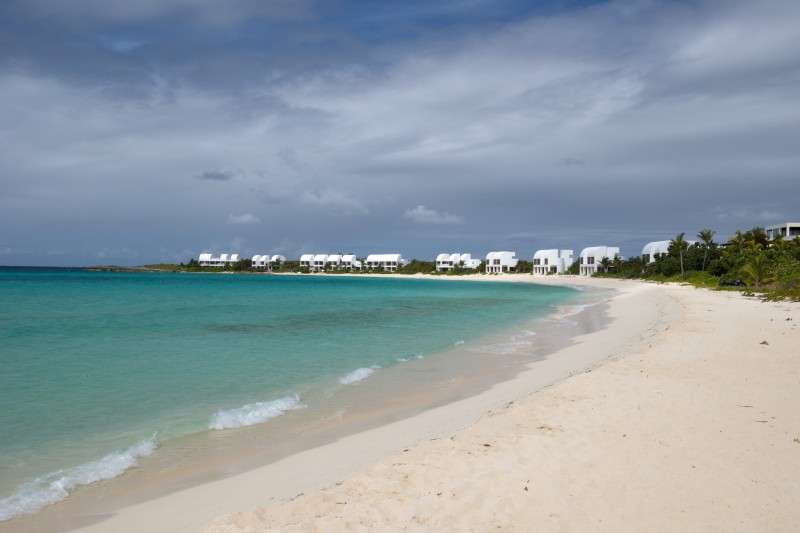 Lanikai Beach, Hawaii
Translated to mean Heavenly Sea, this beach's name is certainly more than fitting. With soft, white sand and warm green-blue waters, arriving at Lanikai may feel like you've stumbled across the doors to heaven. On the coast of Oahu, at only a half-mile long, this beach is smaller and more secluded than bigger more crowded county beaches in Hawaii. With cooperative trade winds, this beach is loved by sailors and windsurfers alike. Sunbathers be sure to get there in the morning as the mountains typically block the afternoon rays. Despite the more untouched feeling of this beach, you can still expect to find a crowd as it continues to seek mention as one of the world's best beaches. Be aware though, since this isn't state or county land, you won't find any facilities, lifeguards or large parking lots here. While you're in Oahu, you should also make a pit stop at world-famous Waikiki Beach, which sees close to 5 million visitors each year. Take a stroll down the Waikiki Beach Walk with a plethora of shopping and dining options.
St. Jean's & Saline Beach, St. Bart's
Otherwise known as St. Barth's or St. Barthelemy, this tropical treasure is one of the overseas collectivities of France among the Leeward Islands (which also includes the French West Indies, Saint Martin, Martinique and Guadeloupe). There more than 20 breathtaking beaches on this island making it difficult to select just one for this list. St. Jean's Beach is one of the more famous beaches as the airport runway ends there, while Saline Beach is more secluded but great for snorkeling. Topless bathing is permitted on all beaches across the island so those traveling with children have been forewarned. For the best deals, head to St. Bart's in August, when many hotels discount their prices up to 50 percent.

Siesta Key Beach, Florida
Deemed one of the best beaches in the United States, Siesta Key consists of eight miles of powdery sand along the Gulf of Mexico in Sarasota. The 99 percent pure quartz sand makes this a unique beach as the sand always stays cool and certainly feels great between your toes. With year-round lifeguards and endless beachfront activities like motorized watersports, volleyball, concession stands and picnic pavilions, this beach has something for every traveler. For a more private spot, set up camp on the southern end of Siesta Key at Turtle Beach, which still offers beachgoers facilities but draws less of a crowd.
Tanjung Rhu Beach, Malaysia
Tanjung Rhu Beach in Langkawi, Malaysia is a quiet and serene place to steal some quality time with your sweetheart in a romantic, peaceful setting. Referred to as "the most stunning beach in Malaysia" by Frommers and the #4 attraction in Langkawi, this beach is a must-see for travelers visiting this beautiful, laid-back country. Known as the Land of One's Wishes, Langkawi is the perfect stop when planning a trip to Asia. Be sure to plan your trip with public holidays like Hari Raya Puasa (July) and Chinese New Year (January/February) in mind, as many shops & restaurants will be closed during this time period.
This breathtaking spot in San Diego, California is certainly one of the more unique beaches on this list. Rather than an expansive, open beach, La Jolla is surrounded by cliffs, forming an inlet with cooler water than other beaches in the area. Historians still have yet to figure out if this spot was named after the Spanish word meaning "The Jewel" or the Native American word for "Hole in the Mountains." The water here is ecologically protected so fishing and the use of flotation devices such as rafts or surfboards is not permitted. During low tide, tide pools filled with marine life are clearly visible, and this beach is well known for its appeal to snorkelers and divers. If you're lucky, you may even catch some sea lions sunbathing on the rocky areas.
Mahe Beaches, Seychelles
This archipelago in the Indian Ocean boasts some of the most pristine white powder sand beaches in the world. The west coast of Mahe, Seychelles' main island, is where you'll want to be, as it so effortlessly represents a slice of paradise. The ocean here is practically transparent, so snorkeling is highly recommended. Surfers also flock to this beach as the tradewinds create ideal conditions for the ultimate waves. Plan your trip here carefully, however, as the weather changes with these tradewinds, which are warmer but wetter from October to April, and cooler but drier from May to September. Peak season in the Seychelles is December through January and July through August, though January tends to be the rainiest month of them all.
Signup for Vacation Deals
Exclusive access to private sales, customized specials & more