The Pirates of Myrtle Beach
South Carolina's coast has been the site of many pirate adventures over the years. Starting in the early days of the colonies, the Carolinas were ruled by foreign powers including the Spanish, French and English crowns. In these turbulent times, corrupt and ineffectual governors were not above "consorting with pirates" to get cheaper goods from the merchant ships sailing off the coast of South Carolina. The most notorious pirates operating in these waters were Blackbeard, Stede Bonnet, Christopher Moody, Richard Worley, and the infamous female pirate, Anne Bonney (who was from Charleston).
The pirates were emboldened by the inability of the colonials to protect their ports. In 1718, Blackbeard and Stede Bonnet set up a blockade to stop and rob every ship that went in or out of Charleston. They even took hostages for ransom. The colonial merchants and settlers were so enraged by this, they formed their own flotilla of sloops led by Colonel William Rhett and supported by the governor, Robert Johnson. They started fighting back, and successfully drove the pirates back to the Bahamas. As a deterrent, they executed the ones they captured. By the 1720s, the pirate threat was nearly extinguished.

Shiver Me Timbers! No More Pirates?
It doesn't mean you can't have some fun pirate adventures in South Carolina. Myrtle Beach offers several pirate-themed activities for children and adults. Once you've told the real history of pirates in the region, you can relax and have a little fun at the pirates' expense. Here are a few ways to give in to your inner pirate, without the murderous intent:
Captain Hook's Adventure Golf
https://myrtlebeachfamilygolf.com/captain-hooks/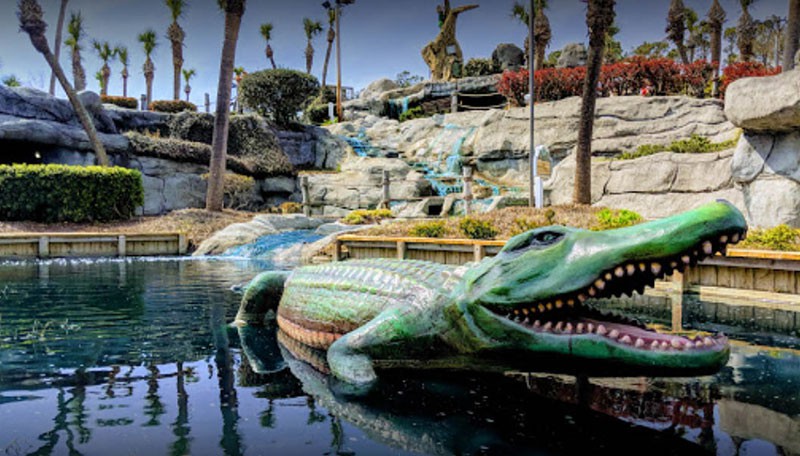 Okay, it's not really a pirate adventure to play miniature golf, but this is a really well-designed course inspired by the tales of Peter Pan and Captain Hook in Never Never Land. In fact, course rules require that you "never grow up." You'll find two courses (Hooks and Lost Boys) in a large, artfully landscaped lot with roving pirates, spooky caves and a 15-foot smoking skull. There are reportedly a few animated crocodiles around, so watch your toddlers.
Pirate Adventures of Myrtle Beach
https://www.myrtlebeachpirates.com/
Come aboard the pirate ship, Sea Gypsy for a sail around the calm, pirate-infested waters of Murrell's Inlet. The ship is armed with water cannons, and because of rumored pirate attacks, all mateys will be taught how to use them. Young privateers are given a tattoo and a treasure-hunting vest. The ship sets off in search of sunken treasure and Smelly Pirate Pete's "secret stash." It gets a bit raucous, but it's all good fun if you're a true pirate.
Escape from Pirate Island
https://carolinaescapegames.com/
You have one hour to release the shackles and escape the dungeon on Pirate Island. You won't be looking for treasure on this pirate adventure. You'll be trying to run for your life and escape your evil captors. You and your fellow captives must solve the puzzles and mysteries surrounding you in order to break out of your situation. Time is of the essence!
Pirate's Voyage Dinner & Show
Come and spend the evening with Captain Blackbeard and Calico Jack as they wage a battle for lost treasure in an indoor lagoon with a full-sized pirate ship. This dinner and show experience is spectacular, with acrobatic performances, live sea lions and tropical birds, lovely mermaids, and real swashbuckling action. You might become part of the battle, so be prepared for some surprises.
***
So, the real pirates may have been driven back to the Bahamas, but there is still pirate fun in Myrtle Beach, if you're ready for it. So, fellow buccaneers, put on your eye patches, sharpen the old cutlass and practice your pirate talk ("aaargh") when you brave the perils of the South Carolina coast.
(Do you know a pirate's favorite letter? Aye, they are partial to the "R", but their first love is the "C.")
By Kay D. Harrison
Signup for Hotel Deals
Exclusive access to private sales, customized specials & more