The Best Luxury Hotels in Los Angeles
Some hotels in Los Angeles perfectly capture the city's iconic reputation. These Los Angeles hotels bring you as close as possible to the Hollywood lifestyle.
When people think of Los Angeles, they may have any number of things in their mind's eye. It could be that of Old Hollywood—of movie stars wrapped in furs, drinks in hand and basking in the pale glow of an art deco cocktail lounge.

It can also be something more modern—a thought of Instagram celebrities and their ilk dodging paparazzi by day on Rodeo Drive before dodging into the neon-hued clubs of the Sunset Strip. While there are other, less extravagant things to love about L.A., decadent versions of glamour and luxury have always played a vital role in the city's identity and its hotels.

Many hotels in Los Angeles are designed with luxury and comfort in mind, made to cater to both the movie stars that frequent them and the guests who want to be made to feel like movie stars. Here are some luxurious Los Angeles hotels fit to cater to every taste.
The Beverly Hills Hotel
Dating back to 1912, and with a prime location, just a short walk from Rodeo Drive, The Beverly Hills Hotel is justly considered the quintessential Los Angeles hotel. Famous for its Old Hollywood decor and cabana-lined pool, the Beverly Hills Hotel will make you feel just like a 1950's movie star.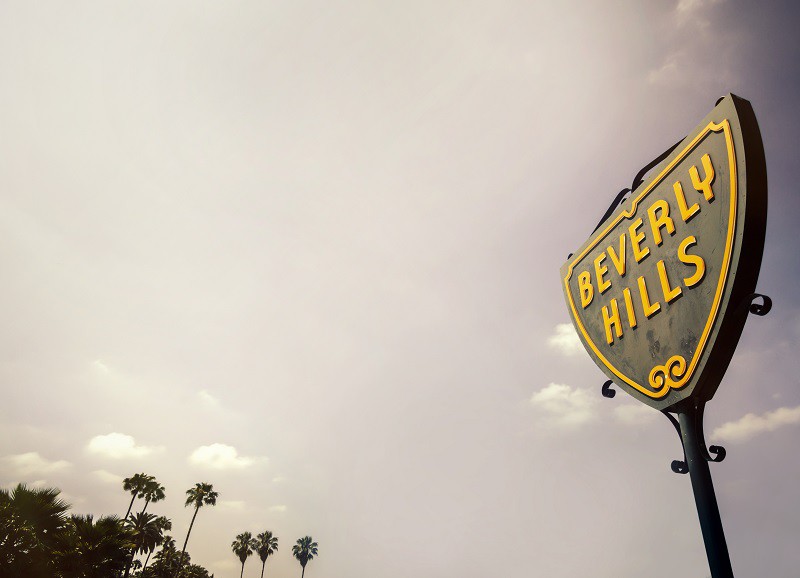 The Beverly Hilton
Offering palm tree-lined Old Hollywood luxury, the Beverly Hilton has always been a second home for movie stars, both as guests and visitors (the hotel has hosted the Golden Globe Awards every year since 1961). With deluxe spa facilities, a massive outdoor pool, and retro-glamour to spare, this is a great place to stay during your L.A. getaway.
The Beverly Wilshire Beverly Hills
Okay, so you might be noticing a pattern here. Like the above Los Angeles hotels, this Four Seasons hotel both exists in and exemplifies the La La Land excesses of Beverly Hills—though in a slightly different package. While the two hotels above traffic in the retro cool of Old Hollywood, the Italian-renaissance decor in this hotel brings to mind a more classical style of luxury. An iconic setting for many films (perhaps most notably, Pretty Woman), the Beverly Wilshire is a historic treasure.
Shutters on the Beach
Away from Beverly Hills in scenic Santa Monica, you'll find this resort sitting elegantly on the beach. Contemporary luxury is on display here, with tastefully decadent interiors designed by Michael Smith (who also designed the Obama White House), a top-notch spa and world-class service. For those whose idea of comfort involves being close to the beach, this is the place for you.

Signup for Hotel Deals
Exclusive access to private sales, customized specials & more