Top Theme Parks You Should Visit
Amusement parks dominate a large percentage of the tourism industry in the United States. It may come as no surprise that Orlando, Florida was the number one visited U.S. tourist destination in 2014 with more than 62 million visitors, according to the Visit Orlando tourism agency.
Since you likely already know the ins and outs of the domestic Walt Disney World, Universal & Six Flags Theme Parks, it's time to present some of the best amusement parks around the world that you've probably never heard of. Not only do these parks have great rides, but they're also much more affordable than spending a day at Disney. All members on our list have received a 2015 Travelers' Choice Award from TripAdvisor, which is based on millions of traveler reviews. (So yes, we are not alone in our beliefs.)
Europa Park – Germany
Europa Park, which is the largest theme park in Germany, opened 40 years ago in 1975 and quickly reached world-fame when it hit one million park visitors in 1978. Now, more than 5 million guests per season visit the park from all over the world. This European-themed amusement park boasts 13 unique sections, each representing a different country. You'll find roller coasters, water rides, shows, restaurants, snack shacks and more all centered around the distinctive cultural components of Germany, Italy, France, Switzerland, Greece, England, Russia, Netherlands, Scandinavia, Iceland, Austria, Spain and Portugal.
Not only is this a popular international destination, but it is the perfect place for Europeans to head for short breaks from work or school. Aside from all the rides, the theme park also features five 4-star hotels on park grounds for guest convenience. One of the properties even has a restaurant that has earned two Michelin stars for its top-notch cuisine. Cost of entry for adults runs between only $39 and $46 depending on the season you are visiting (summer is peak season, winter is off-peak season).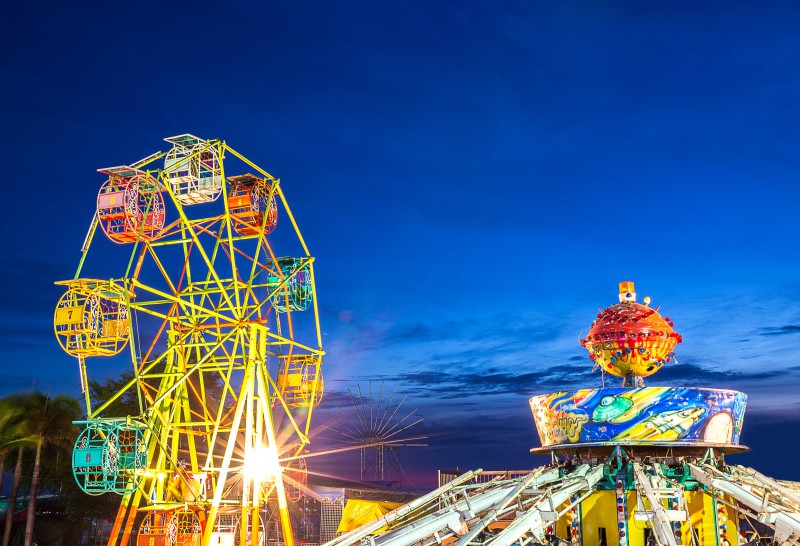 PortAventura Park – Spain
This oceanfront park, currently celebrating 20 years since opening its front gates, is unique in that it's viewed as both a theme park and resort destination. Overlooking the Balearic Sea about an hour and a half drive south of Barcelona, PortAventura features a theme park, water park and four 4-star hotels (and one brand-new 5-star) with beautiful beaches, great shopping, three golf courses, delicious restaurants and more.
Inside the park, you'll experience a number of different types of rides in five geographically themed areas: Mediterranean, Far West, Polynesia, China, Mexico plus SesamoAventura, the Sesame Street kid-centric area of the park. One of PortAventura's prized possessions is the Shambhala roller coaster, which has claimed three European records as its tallest roller coaster, the roller coaster with the longest descent and fastest hyper-coaster. You'll also love the live entertainment with up to 40 shows performed per day, including summer performances by Cirque du Soleil. In only 20 years, PortAventura has welcomed more than 60 million visitors. Cost of entry for the theme park and water parks are separate. Theme park entry for adults is about $48 while aquatic park entry costs around $30.
Ocean Park – Hong Kong
Rated as one of the top 20 things to do in Hong Kong, Ocean Park, which first opened in 1977, attracts more than 7.7 million visitors per year. Labeled as an educational theme park and registered as a not-for-profit company, Ocean Park features an amusement park, animal theme park, oceanarium and marine mammal park all in one 915,000-square-meter plot of land. The park is continuously accredited by the Association of Zoos and Aquariums and aims to establish itself as the world's best marine-based theme park.
The two sections of the park, The Waterfront and The Summit, have a myriad of activities, rides, shows and restaurants just waiting to be explored. While at the park, be sure to take a ride on the almost 1-mile long cable car system, which is not only the most convenient method of transportation between the two parks, but also provides guest with a gorgeous panoramic view of both Hong Kong and the South China sea. A high-speed train called the Ocean Express can also take you between the two sections in under three minutes. Don't be alarmed when you see the price of HK$345 per adult. This only comes out to about $44.50 in USD.
Tivoli Gardens – Denmark
This theme park in the center of Copenhagen is by far the most historic on the list. Tivoli Gardens was first established in 1843 and is considered the world's second oldest theme park. (The oldest theme park in the world happens to also be in Denmark only about 6.2 miles away). Both its history and its picturesque backdrop filled with beautiful gardens make this park extremely unique.
One of Tivoli's main features is a wooden roller coaster which was built in 1914 (also one of the world's oldest), and is actually still controlled manually by an operator. The park's carousel stands as the world's second tallest at 262 feet high. Though older, there are definitely new additions to the park that continue to make it a world-famous attraction. In 2014, Tivoli's Vertigo coaster was actually awarded Europe's Best Ride. Believe it or not, cost of entry for adults is only a mere $14.
Beto Carrero World – Brazil
Taking the prize for biggest theme park in Latin America, Beto Carrero World opened in Penha, Brazil back in 1991. Featuring over 100 attractions including thrill rides, shows and even a zoo, this park is a great place for families with kids of all ages. In an attempt to incorporate characters into the park, as many amusement parks do, Beto Carrero also has partnerships with Dreamworks and Universal Studios so it can promote film characters from both studios. Due to long lines, visitors should try and buy their tickets in advance online so they can maximize their time in the park. Try and get there as early as possible as one known complaint is the long wait time to enjoy the attractions. Adult admission for this fun-filled park is just $26.
For a thrilling bonus while traveling overseas be sure to add one of these world-famous amusement parks to your list!
Signup for Vacation Deals
Exclusive access to private sales, customized specials & more