Sea Day Gets A+ on MSC Meraviglia
You're cruising on the newest MSC cruises ship to come to the U.S. – the MSC Meraviglia – on an 11-day voyage from New York City to the Canadian Maritimes. The itinerary looks amazing, with stops in Cape Breton Island, New Brunswick and Quebec. You also notice the second day of your cruise is labeled, "At Sea."
If you're a seasoned cruiser, you know this means you won't be docking anywhere for 24 hours or more, and that you'll be covering some nautical miles to get to the next port. But if you're a newbie, you might be wondering, "What am I going to do all day?"
For those of us who are lucky enough to cruise often, the "at sea" day is a favorite time on the ship. Since you're on the MSC Meraviglia, you have some incredible options for onboard entertainment, some of them unlike any other ship at sea. Let's plan your sea day so you don't miss an exciting opportunity.
Breakfast – Since we are dreaming, let's say you are staying in a Yacht Club suite, so you can have breakfast in the exclusive restaurant on Deck 18. The menu changes every day, and it's a sit-down meal. If you'd like a view of the ocean, there's a buffet breakfast for Yacht Club guests just one deck higher in the Solarium Grill.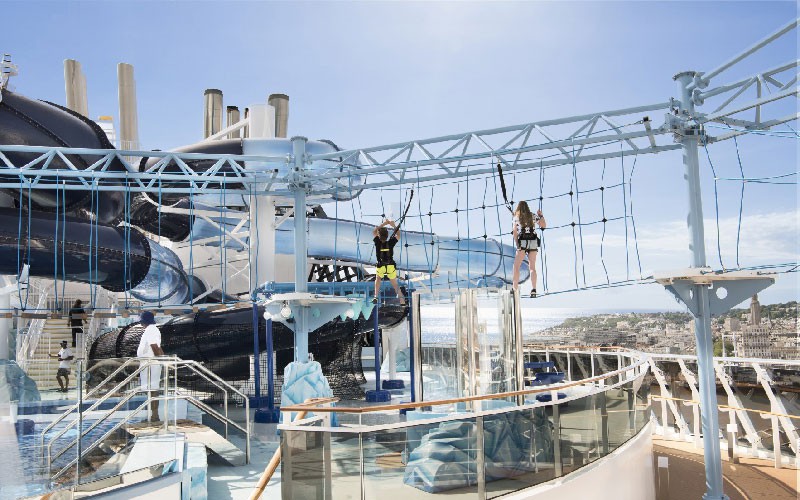 Some Daring Fun – After breakfast, we can try out the Himalayan Bridge ropes course. This is not for scaredy-cats, and there's no shame in skipping it if you are afraid of heights. The Himalayan Bridge is perched high above the Polar Aquapark and soars about 200 feet over the ocean. It is made up of wooden steps and platforms suspended from ropes, and you'll have a choice of challenge levels: mildly frightening or truly terrifying. Of course, you will be strapped in for safety, so there's no chance of plunging into the ocean. It offers the best view on the ship, so try it!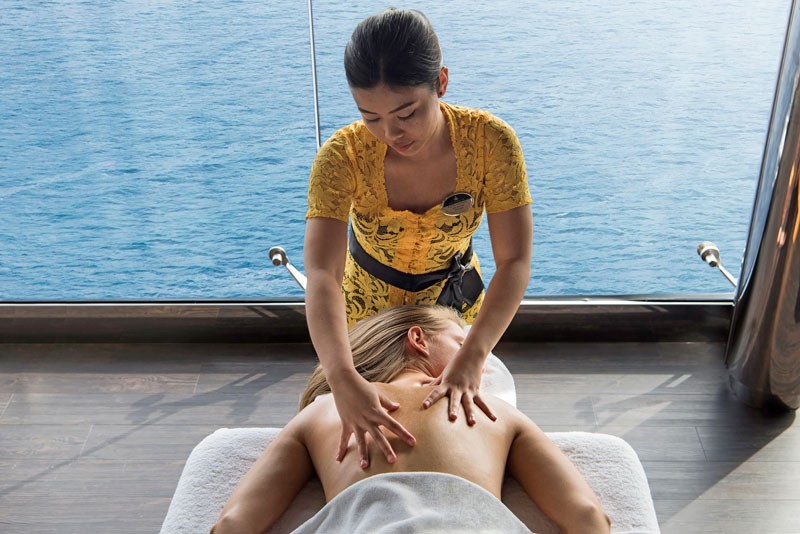 Rejuvenation Time – One of the exceptional experiences on board is the Aurea Spa on Deck 7, with thermal experiences from hot bubble tubs to the ice grotto. The MSC Meraviglia has the largest spa of any cruise ship, with 20 treatment rooms offering Balinese facials and massages. The Thermal Suite is really the place to relax after your adrenaline rush on the ropes course.
There is a choice of steam rooms, a salt room, aromatherapy suites, two saunas and yes, a snow and ice grotto. After the freeze treatment, you can warm up on some incredibly comfortable hot marble beds – way more comfortable than it sounds. Be sure to make a reservation. Sea days at the spa are always busy.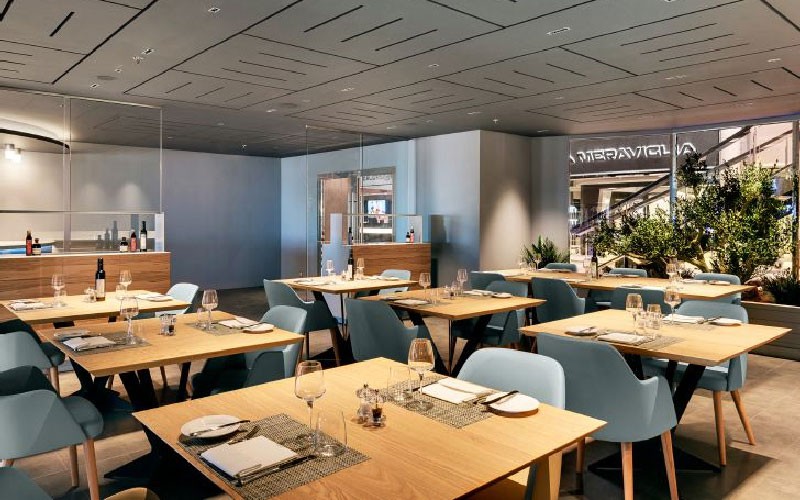 Time to Eat, Again – After the walk-through spa shower, you'll be ready to dress for lunch. As much as I want to recommend Jean-Philippe Maury Chocolaterie, you probably don't want the $29 chocolate shoe for lunch as much as I do. The Eataly Italian restaurant on Deck 6 is open for lunch, and a fresh salad with smoked salmon - eaten at the sit-down bar - is the light healthy lunch your rejuvenated body craves.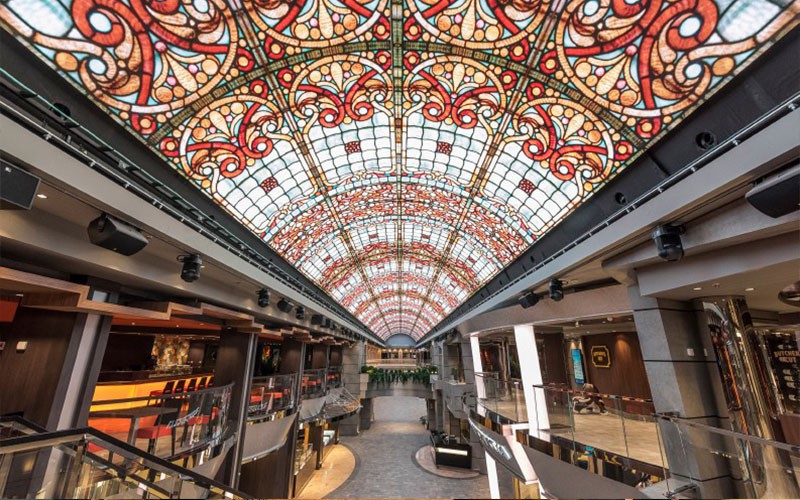 Shop 'Til We Drop – On the way back to your cabin for a nap (just kidding – we are not napping today) we should pass through the main promenade, the Galleria Meraviglia. If we time it right, there might be a parade of entertainers and performers making their way through the streets with music and colorful costumes. The space is designed to resemble a Mediterranean-style piazza, featuring boutique shops and cafes. But if you look up, you'll see something amazing: the roof of the promenade is an 80-square meter LED screen with a changing display. Sometimes the ceiling shows fireworks and shooting stars, and sometimes geometric designs of blue and gold. It is constantly changing. After wandering through the shops, we can stop for ice cream (or a chocolate shoe?).
Dance Lessons, Anyone? On sunny sea days, the pool deck is the place to find activities and parties. The talented and energetic entertainers on board run a variety of games, contests and lessons. On our sea day, they are teaching line dances by the pool, and it is the most fun place to be. After your humiliation, it's time to find a deck chair and work on your tan. The Meriaviglia has a spacious sun deck with plenty of loungers. This is the place for that nap.
Rainy Day Options – The ship has two full-size bowling alleys and a flight simulator. A casino, tucked into the aft of the ship on deck 7, is a great place to go for rainy days, with slot machines and table games. In the Bamboo Lounge next to the pool, you'll find table tennis – and sometimes a tournament is going on. The Broadway Theater on deck 6 is used for various activities including kids' programs, and you can find video quizzes in the TV studio or Bingo in the Casino.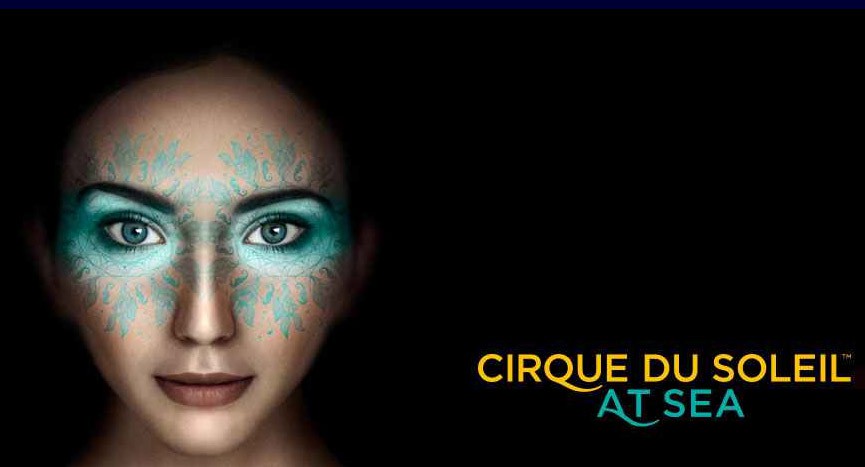 Dinner and a Show – There are four main dining rooms on the MSC Meraviglia, and several options for specialty dining including the Solarium Grill just for Yacht Club guests like us. If you can plan ahead and make reservations, the one dinner not to miss is something new for cruising: Cirque du Soleil at Sea. This option costs 35 euros per person, but considering what you'll get, it is well worth the price. It's a four-course set menu followed by the amazing acrobats, jugglers and human ping pongs of the Cirque troupe. The Carousel Lounge was built especially for this show, and the performance is a riot of color and action backed up by a huge LED screen. You'll see flying bicycles, an acrobat whirling around the stage in a giant hoop and performers suspended right above you from the ceiling. It's a world of fun.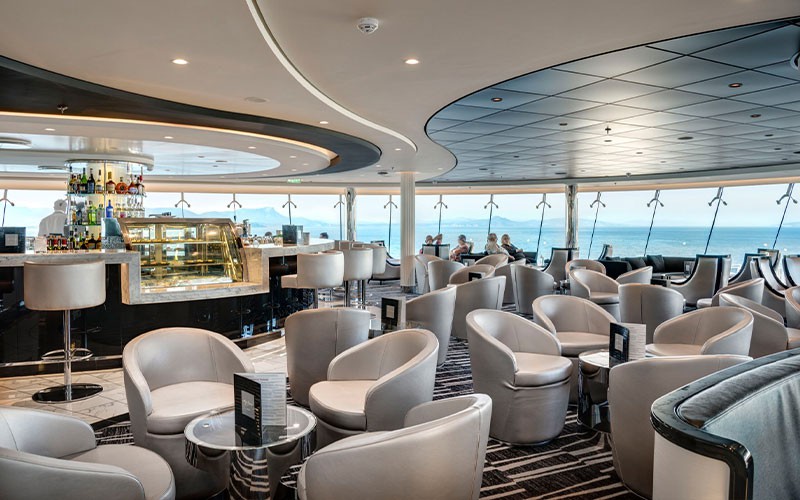 Ready for a Nightcap? If you would enjoy a little music, dancing and a relaxing libation, we can head over to the Sky Lounge on deck 18. It's a perfect spot for a quiet post-dinner cocktail. In the evening, a talented trio from Bueno Aires – a pianist, guitarist and singer – entertain with a variety of light jazz selections with a Latin flare. If you'd like a little late-night karaoke and some dancing, we can find that at the TV Studio and Bar on deck 7, forward. After those dance lessons this afternoon, you don't have to worry about the additional humiliation of a karaoke performance, right?
***
It's time to leave you on the karaoke stage singing "Sweet Caroline," indulging your inner Neil Diamond. Tomorrow, you'll be docking at a quaint seaside village in the Canadian Maritimes. Visiting ports of call around the world and experiencing the world's diverse cultures are the reasons you cruise, but don't be afraid of the "at sea" days. Some of the best days on the MSC Meraviglia are sea days, even if all you want to do is nap by the pool.
By Kay D. Harrison
Plan an MSC Cruise Vacation
Signup for Cruise Deals
Exclusive access to private sales, customized specials & more