The Basics of TSA Precheck
Years ago, after the 9/11 airport security procedures were in full force, my team and I were leaving the office for a flight to Baltimore for a business conference. I was the last to leave, grabbed the tote bag that contained my daily life: book, lunch, medications, comb and toothbrush, and headed to the airport with my overnight bag.
In the airport security line at Boston's Logan airport, I heard the dreaded call for a "bag check." I was directed out of the line to a separate line where an agent was calmly pulling everything out of my tote bag onto a table. I was already late, and my team had gone on ahead to the gate. I was going to miss my flight.
"Please, my flight is boarding now," I said to the agent.
"That's not my fault," said the agent, "I'm not the one who attempted to bring a six-inch steak knife onto an airplane."
Wait, what? With a sick feeling, I remembered packing my lunch that morning. It was a hunk of Swiss cheese and an apple, and a knife to cut them with. The agent found the knife, confiscated it, rechecked my passport and boarding pass, told me he could add me to a terrorist watch list and finally let me go. I was the last one at the gate to enter the gangway before they closed the door. For weeks, my co-workers called me Osama bin Harrison.
The moral of the story is this: Anyone can be treated like a criminal or suspect by TSA in the airport security line. If you make a packing mistake, make a bomb joke, carry too much liquid, try to board with a propane-powered curling iron or pack a knife with your lunch, you may be delayed, questioned, inspected and made to feel like a threat to your country. There is nothing you can do if you break the obvious rules, but there is a program that will help you zip through the lines and avoid some of the hassles. It's called TSA Pre-Check or TSA Pre✓®.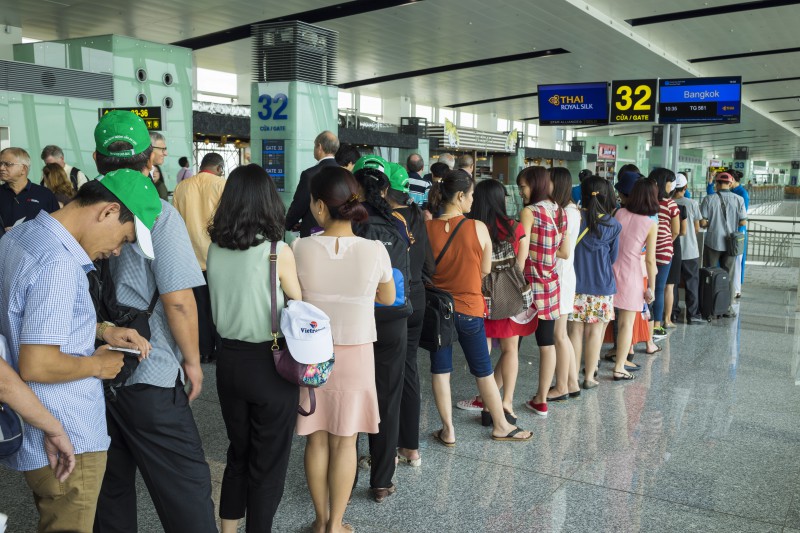 What is TSA Pre✓® and How Does it Work?
TSA Pre✓® is a program that identifies travelers with a low-risk profile and allows them to use expedited airport security screening. This means shorter lines and relaxed rules. You won't have to take off your shoes, unpack your laptop, pull out your liquids or take off your belt and jacket. Even better, you'll get some respect in the screening line. You're a trustworthy U.S. citizen who gets a pass for being law-abiding.
More than 160 U.S. airports participate in the program, and twelve common airlines including American, Delta, Southwest, JetBlue and others. The airline will identify you as a participant by printing your TSA Pre-Check status on your boarding pass. You can find the pre-check line at the security gate and zip through with minimal inspection.
How Do You Apply for the Fast Lane at Airport Security?
First, you must be a U.S. citizen, a U.S. national or a lawful permanent resident. You cannot have criminal convictions for espionage, sedition, treason, murder, terrorism, unlawful possession of explosives, or a transportation security incident. This last one is defined as an incident that resulted in significant loss of life, environmental damage or disruption to transportation systems.
You may also be turned down if you have a conviction (or pled guilty) to other felonies such as extortion, unlawful possession of a firearm, smuggling, bribery, sexual assault, robbery or manslaughter among others. There is a seven-year wait period after your conviction for these "part B" crimes. So, if you are a felon, and you've served your time, you must wait to apply for TSA Pre-Check.
Also, don't try to apply if you are wanted or under indictment for any of the above felonies. If there is a warrant for your arrest, it must be released before you can be considered.
Law-abiding citizens with no criminal issues in their backgrounds have a three-part application process.
Fill out an application form. This can be done online.
Schedule an appointment at an application center. There are 300 application centers all over the country, including centers at major airports. Walk-ins are allowed, but you may have to wait.
Present required documentation. Depending on your citizenship status, you will need a valid passport or a passport card. If you don't have one of these, you will need two forms of ID, such as a driver's license, recently expired passport, and/or a birth certificate.
The reason you need to go in person to the application center is so you can be fingerprinted. You will also have to pay the $85 fee, which is good for five years. You must pay with a credit card, cashier's check, money order or other certified funds.
TSA Pre-Check is not the only program to get you into the "fast" lane. You can also apply for Global Entry, NEXUS or SENTRI, or be an active duty member of the U.S. Armed Forces. All of these programs will issue a "known traveler number," or KTN. In the case of active duty military or Coast Guard, your Department of Defense ID number is your KTN.
You must use your KTN when making your air reservation, or have it in your frequent flyer program profile. This is how the airlines embed your KTN into your boarding pass, the only way to get into the TSA Pre-check line.
After applying, it takes about three weeks to get your approval letter with your KTN. In case you're wondering, no, you cannot use this letter to get into the TSA line.
Is It Worth It?
Obviously, as more travelers are accepted into the program, the pre-check lines will be getting longer. I've never seen one that was longer than the regular security line, so I still think it's a bargain. One thing the TSA Pre-Check gives you is a little respect. The TSA agents know that you've been through a background check and were found to be low-risk. That's worth something.
No matter which line you go through, it's probably not a good idea to bring along a steak knife. You still have to follow the rules. Remember, you're only in the privileged line because you're a law-abiding person with no criminal background, so it's best to act the part.
By Kay D. Harrison
Signup for Flight Deals
Exclusive access to private sales, customized specials & more