Tips for Cruisers: Do This, Not That, On a Cruise
Experienced cruisers know the basic rules for shipboard etiquette, what they should not do on board, and what to pack for a cruise. For first-time cruisers, a few do's and don'ts may be helpful. As an example, did you know you're not allowed to skip the safety drill? Read on for more tips on cruising no-no's and not-to-miss experiences.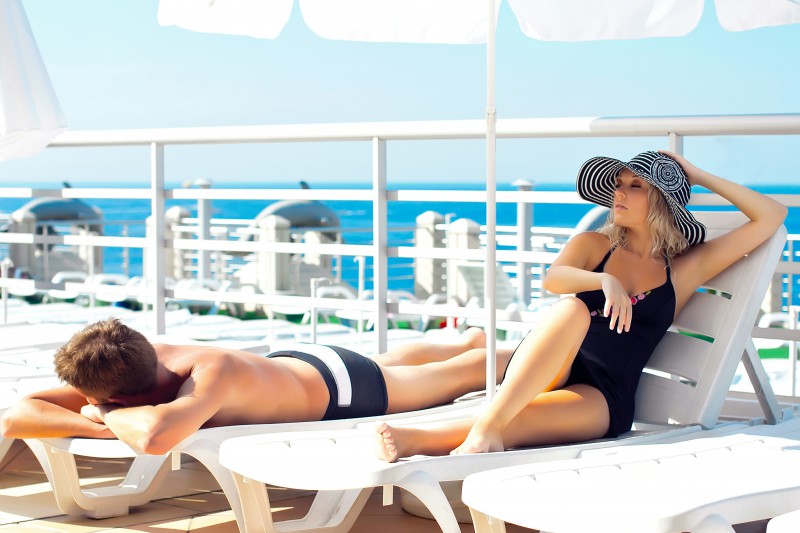 DO: Take the Behind the Scenes Tour if one is offered. Princess Cruises offers a chance to see the inner workings of the cruise ship's daily operations, taking you behind the scenes in the engine room, laundry area, backstage, the galley and the print shop. You can also get a look at the medical center, the photo lab and the bridge, where you will meet the captain and get a look at the navigation equipment. A souvenir photo with the captain will be delivered to your stateroom.
DO NOT: Bring bottles of liquor or beer on board. Cruise lines have rules about bringing soda, water, wine and liquor on board with you. If you try to sneak some in your baggage, it will probably be discovered (by the characteristic gurgling sound) and confiscated. Check the cruise line's website for regulations on what you can get away with. Here are a few of the cruise lines' rules about bringing beverages onboard:
Carnival Fun Ships: During embarkation only, adults may bring one standard bottle of wine in carry-on baggage. If you want to drink it in a dining room, there is a corkage fee of $15. No bottled water, soda or hard liquor is allowed, but a maximum of 12 cans of non-alcoholic beverages are allowed per person. Bottled water is very inexpensive to order onboard.
Royal Caribbean Ships: No hard liquor or beer may be brought onboard, period. Two bottles of wine or champagne per cabin may be brought on embarkation day in carry-on bags.
Princess Cruises: Same rules as Carnival, except that if you bring more than two bottles of wine or champagne, you will be charged the $15 corkage fee no matter where you drink it.
DO: Take Latin Dance Lessons. This is a laugh riot, especially when the class is held in the Central Atrium as ours was. People are watching from various vantage points above the atrium, and laughing at you without mercy. The dance instructors, at least on the Royal Caribbean ship we were on, are talented and entertaining. So let your hair down, let your guard down and dance like no one is watching from four floors up, laughing hysterically.
DO NOT: Skateboard. Anything with wheels other than a wheelchair is firmly – and wisely – prohibited on a cruise ship. Roller skates, skateboards, roller shoes (Heelys) and scooters are not allowed, for obvious reasons. On a rolling ship, it is dangerous to be on wheels. You could slam into the rail on a steep wave, or worse, go overboard. So pry the skateboard out of your teenager's hands before boarding.
• Special note for Hoverboards: These new toys, which resemble Segways without handles, are especially dangerous on a rolling deck. While they don't really "hover," they do move quickly. The recent reports of fires erupting from these devices are really disturbing on a ship, so please leave the hoverboards at home.
DO: Take an early morning walk or run on the track deck. Many ships have a deck that is marked for joggers, walkers or runners. In the very early morning hours, you are likely to see the next port coming into view as you jog, or the deck hands tying up. If you are really out at sea, you'll have a great view of your surroundings in 360 degrees of ocean and the sun rising in the east. It's a great way to start the day, and counterattack the extra calories you are consuming. Special note: On an Alaska cruise, I did a lap in early morning just as the ship was making its way down the Tracy Arm Fjord to Sawyer Glacier. It's a view, an experience, I'll never forget.
DO NOT: Save deck chairs for your group, or for yourself. It is extremely rude to leave your belongings on a deck chair to "save it" while you do other things, like eat lunch or go on a shore excursion. It is equally rude to send one family member out to save chairs for the whole group. If you want to sit together on deck, go early and arrive at the same time.
Also be considerate in the hot tubs, and take your turn. It's not healthy to spend an entire evening in a hot tub anyway, so leave occasionally and let others enjoy. I was on a Norwegian cruise in February, and in the cooler weather, the two hot tubs were always full, and always with the same group of young cruisers. They never left, and I never got to use the hot tub, no matter how long I stood outside and scowled at them.
DO: Dress Up for Formal Night. It's fun, and you'll get a nice photo out of it. That's my female point of view. I know not everyone enjoys the experience, and some men object to wearing a tie while on vacation. If you choose not to get fancy, plan to eat in one of the casual dining rooms or the buffet that night. Don't show up in the main dining room in shorts and a tee-shirt, unless you are on a ship with no dress code. One tip, from experience: If the water is at all rough, do not wear those 4-inch spike heels. When the ship rolls, you might stumble or fall, and become the evening's floor show!
DO NOT: Skip the Safety Muster. Even if you have been on a dozen cruises before, do not skip the safety drill. Every passenger has to appear at the assigned lifeboat station and is checked off a list. If you miss the drill because of illness, some ships allow you to attend a make-up session. If you have no good excuse for missing it, you are in danger of being "debarked." One couple on the Seabourn Sojourn recently found out just how serious the cruise lines are about this requirement. After the wife refused to attend (saying she had done it before), the couple was left on the pier with their luggage as the ship left the port.
Do you have other tips for cruising? Let us know in the comments below.
By Kay D. Harrison
Signup for Cruise Deals
Exclusive access to private sales, customized specials & more